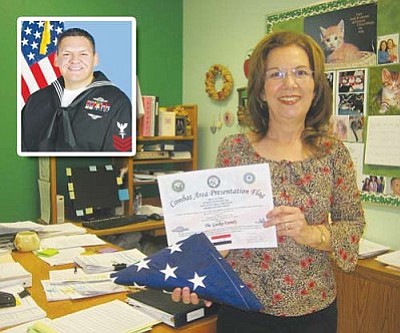 Originally Published: May 17, 2011 6 a.m.
KINGMAN - For a woman whose career revolves around language, Kingman High English teacher Joylene Gaska was surprised to find herself at a loss for words after a former student walked into her classroom a couple weeks ago.
"To say that this gesture is special does not begin to say enough," she said.
Joseph Dronchi was in Gaska's 8th grade class and had her again his junior year after she transferred to the high school. He failed her English class.
"Some are just more willing to come talk with you," Gaska remembered. "He was always so personable and nice but he wouldn't do any work.
"There was a point where his charm didn't work any longer," she added with a smile.
Dronchi appealed to Gaska during his senior year to let him make up the work he didn't complete the year before. He also worked on improving his grades with several other teachers and counselors.
Dronchi ended up graduating on time in 2000 and entered the Navy, where he's served as a medic on numerous overseas tours. Now 28, he's been named Sailor of the Year - twice.
Dronchi continued to drop in on Gaska over the years and she's seen him evolve from an immature high schooler to a composed serviceman.
"They usually grow up and go on with their lives," said Gaska, who has seen 41 years worth of students pass through her classroom. "He's one that has always stayed in touch."
Surprise visit
Two weeks ago, Gaska was sitting at her desk madly grading papers before first period when Dronchi made an unexpected visit. She was so happy to see him, she hardly noticed the folded triangle of fabric he had set on her desk.
"He looked so composed and mature," she said. "I noticed that change as soon as he enlisted in the Navy."
After catching up, Dronchi picked up the item he had set on Gaska's desk and presented it to her. It was an American flag flown over the Al-Basrah Oil Terminal in her honor in February while Dronchi was deployed in support of Operation Iraqi Freedom and Operation New Dawn.
The gift left Gaska speechless.
"I cannot articulate how honored I feel to think that in the midst of the demands and horrors that Joe must face regularly in Iraq, that he would still keep me in his thoughts," she said.
Attempts to contact Dronchi for this story were unsuccessful. When he was given his second Sailor of the Year award earlier this year, he told the Miner he was deployed in the north Arabian Gulf providing anti-terrorism force protection and harbor defense port security.
He was also recently awarded the Navy and Marine Corps Commendation Medal for his actions in support of Operation New Dawn. He is the son of the late Thomas Dronchi of Battle Creek, Mich., and Mark and Nancy Esquibel.
Eyes on chief
Dronchi's official title is Hospital Corpsman 1st Class but he told Gaska he's working on earning the title of chief, an office rarely held by someone his age.
"You want to talk about integrity, honor, strength and courage and all of those words," Gaska said. "(Joe) is the epitome of all that in my eyes."
She said Dronchi's success is inspirational for other students struggling through school. And as their teacher, Gaska said she will do everything to facilitate the same change she did for Dronchi.
"I try to stand on my head to help these kids graduate," she said. "It is not my job to see them fail."