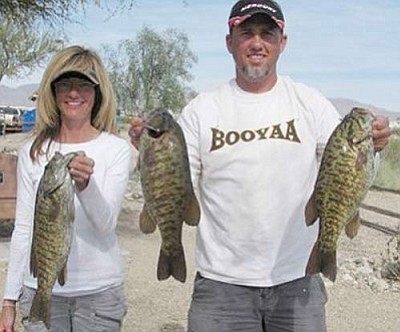 Originally Published: May 17, 2011 6:01 a.m.
KINGMAN - The Kingman Bass Club's next fishing tournament is a two-day event that will be held on Saturday and Sunday at Alamo Lake.
This year the KBC has developed a different format for the tournaments.
Now it is a pick your own partner team and teams can fish as few or as many of the club's nine regular tournaments from February through October.
However, teams that want to participate in the club's fish-off tournament in November at Lake Havasu must have participated in at least seven of the nine tournaments.
Entry fees for the tournaments are $110 per team, and anglers must join the KBC before they can participate. Annual dues are $35 per person.
Currently, the team of Shane Moline and his partner Tina Kennedy have the largest stringer of the year, a five fish limit they caught in Lake Havasu that weighed 19.39 pounds.
Mike Miller is currently the holder of the largest bass caught this year, a lunker largemouth that weighed 4.95 pounds.
For more information on the Kingman Bass Club, contact club president Pete Byers at 753-3234.