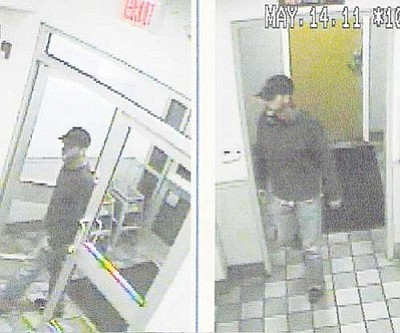 Originally Published: May 19, 2011 6 a.m.
KINGMAN - Kingman Police released photos of a man captured on surveillance cameras before robbing a fast food restaurant Saturday night.
The man entered the In-N-Out Burger on Beverly Avenue around 10:15 p.m. and flashed a gun in his waistband to the cashier before demanding money from the register.
The suspect made off with less than $100 and was gone by the time police arrived.
Anyone with information on the robbery is asked to call Kingman Police detectives at (928) 753-2191 or report anonymously to Mohave Silent Witness by calling (928) 753-1234.
Tips can also be reported online at www.kingmanpolice.com.