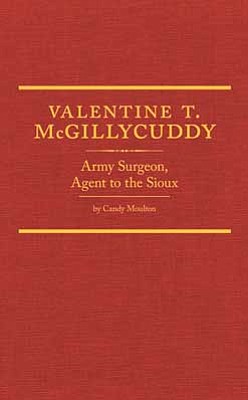 Originally Published: May 20, 2011 6:01 a.m.
Valentine T. McGillycuddy, Army Surgeon, Agent to the Sioux, By Candy Moulton; 978-0-87062-389-9; 296 Pages; $34.95; Published, June, 2011; Hardcover; Western History/Biography; Published by Arthur H. Clark Company.
Simply stated as an epitaph is the title of this latest western history book; "Valentine T. McGillycuddy, Army Surgeon, Agent to the Sioux." What is not stated is the career of this American hero in the development of the West!
He not only mingled with the famous names such as Calamity Jane, Wild Bill Hickok, and "Buffalo Bill" Cody, he was a part of expeditions that drew boundary lines between the United States and Canada.
Lost in the annals of history is this tall man who was a horseman, doctor, cartographer, statesman and, most importantly, a man who cared about not just the white man's movement west, but those who were displaced from their hunting lands and moved to reservations. He knew Crazy Horse and the many Indian chiefs who were trying to protect the way of life they were trying to live.
Valentine often gave up his own personal life to serve his country. When he was first married he left his bride of a few weeks and traveled to Minnesota, North Dakota and the other border lands as a part of the expedition mapping and plotting the lines that would separate the two countries.
Temperatures were extreme and would fall 50 degrees below zero at times, but the mappers would brave this weather to place monuments that would mark demarcation points.
One amusing incident was when a swamp was encountered and the men who had to survey the land could not do their work because of the water. They had to wait for winter so they could walk on ice. The swamp grass was so thick the water did not freeze even though it was 40 to 50 degrees below zero! Carefully, after several fell into the water, they made their way to finish the charts and mark the boundaries.
Candy Moulton spent 11 years researching this book. She read many journals, notes written by McGillycuddy and visited where he had lived. This first biography of a man whose life spanned 90 years, from 1849 to 1939, is factually accurate. Exciting times in his life, from the taming of the western states to the era of the great depression, made this an enthralling story which will hold your interest from start to finish.
Moulton is the award-winning author of 11 books on western history, including "Chief Joseph: Guardian of the People" and "Everyday Life Among the American Indians, 1800 to 1900."
This will not be a best-seller among the popular books of today, however, it is an important facet that must be cherished as a part of the emblematic recording of American history. Unless we have books like these, our heritage will be lost, and those heroes of the past will be forgotten along with their accomplishments.
"Valentine T. McGillycuddy" is a worthwhile addition to the library of those who enjoy western Americana and is a three-star book.
Publishers Weekly
Best-sellers
Week of May 16
Hardcover Fiction
1. Dead Reckoning, by Charlaine Harris
2. 10th Anniversary, by James Patterson & Maxine Paetro
3. The Sixth Man, by David Baldacci
4. Sixkill, by Robert B. Parker
5. The Land of Painted Caves, by Jean M. Auel
Hardcover Non-Fiction
1. Bossypants, by Tina Fey
2. Does the Noise in My Head Bother You?, by Steven Tyler with David Dalton
3. If You Ask Me (and of Course You Won't), by Betty White
4. The Dukan Diet, by Dr. Pierre Dukan;
5. Stories I Only Tell My Friends: An Autobiography, by Rob Lowe
Clark Isaacs is an accomplished book critic who is published in local newspapers and national book review lists. He is a member of the faculty of Mohave Community College in Kingman. Visit Clark Isaacs at http://clarkisaacs.ning.com.