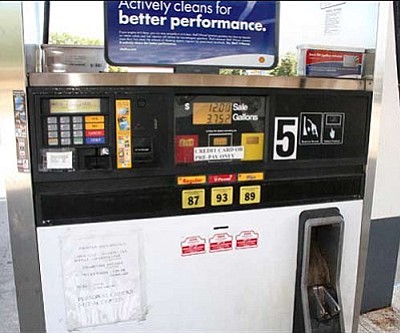 Originally Published: May 22, 2011 6 a.m.
KINGMAN - With Memorial Day in sight, fuel prices finally yielded to plunging crude oil prices, reversing course on its months-long climb.
Arizonans pay an average of $3.72 per gallon - a drop of 4 cents from last week. Nationwide, the price of fuel dropped almost 8 cents from last week to $3.91 per gallon.
After plummeting from a multi-year high two weeks ago, the price of crude oil continued trading between $90 and $100 per barrel this week.
Pump prices cautiously joined that descent as supply disruption concerns were subdued after the Department of Energy reported healthy gasoline and crude oil stocks, and Mississippi Delta refineries remained operational amidst the flooding.
This break in upward momentum comes at a time when more than 626,000 Arizonans are projected to embark on Memorial Day road trips. Despite paying nearly 90 cents more for fuel this year, the total number of holiday weekend road warriors is expected to decrease by only a fraction of a percent from last year. In fact, six out of 10 travelers said gas prices would not impact their travels.
"This reversal at the pump delivers some relief to Memorial Day motorists, but we are still approaching the summer travel season with guarded optimism," said Linda Gorman, director of communications for AAA Arizona. "While we have been anticipating this tandem fall with oil prices, there are still factors that could buoy prices at the pump. Flooding is still a threat in the South, refinery maintenance has been extended in the West, and hurricane season is just around the corner. Therefore, it is too soon to tell how low and how long fuel prices will fall."
Tucson and Flagstaff hold the low and high state fuel averages at $3.61 and $3.85 per gallon, respectively. Wyoming and California hold the low and high price extremes for the lower 48 states at $3.68 and $4.17 per gallon, respectively. Arizona has the third lowest prices in the country, and 10 states including the District of Columbia hold averages at or above the $4 mark.