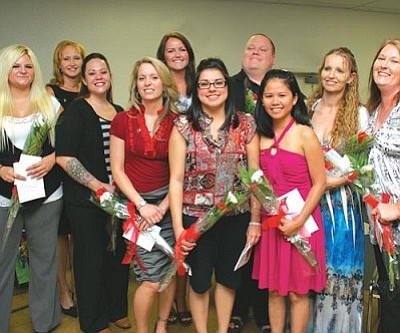 Originally Published: May 24, 2011 6 a.m.
KINGMAN - The first class of students in the Associate of Applied Science in Surgical Technology Program at Mohave Community College received their pins during a recent ceremony at the Lake Havasu City campus.
The 10 students from throughout Mohave County were the first to go through the AAS program from start to finish, completing more than two years of prerequisites, program classes and labs, and clinical study to earn the degree. Last spring, three MCC students completed the AAS after first earning a certificate in surgical technology.
Addressing the graduates' families and friends during the ceremony, instructor Michelle Schmidt talked about the advantages of the Associate's Degree.
"Competing with people who have certificates, your loved ones are going to be in a much better position to get a job with the Associate's Degree," Schmidt said.
Program preceptor Amber Moore explained how the students have benefited from the extra training they received.
"People in our clinical settings have told us these are the best-prepared students they've ever seen. I'm so proud of you," Moore said.
The 10 graduates receiving their pins during the ceremony were Angelic Franco, Bobbi Jo Harrington, Roxanne Hensley, Samantha Johnson, Lacey Korson, Dawna Morris, Renee Murrell, Nandeliza Patten, Bridget Smith and Mike Wisniewski.