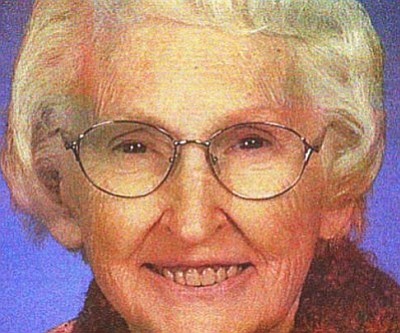 Originally Published: May 25, 2011 6:01 a.m.
Shirley Marilyn Williams, 83, of Kingman passed away Thursday, May 19, 2011, at her home. She was born Dec. 25, 1927, in Rapides Parish, La., to Kirby and Jessie Rogers. She came to Kingman five years ago from Riverside, Calif.
She graduated from Clarks Business College and was a member of the United Methodist Women and the Daughters of the American Revolution.
Shirley is survived by her children, Thomas (Sherry) Williams of Kingman, Jeanette Hennessey of Kentucky, Gary (Ema) Williams of Kingman, Richard (Sharon) Williams of Kingman, Cindy (Ron) Phelps of Manhattan, Ga., and Kandy Sue Clark of Indiana; nine grandchildren and eight great-grandchildren. She is also survived by two sisters and one brother of Topeka, Kan., LaRue Rogers, Vivian Boettcher and Herbert Rogers.
The service will be at 1:30 p.m. Wednesday, May 25, at St. Johns United Methodist Church, 1730 Kino Ave.
In lieu of flowers, donations can be sent in her memory to: Daughters of the American Revolution, 1776 D Street NW, Washington, DC 20006.
More like this story