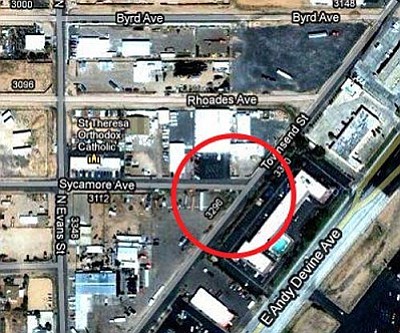 Originally Published: May 26, 2011 6 a.m.
KINGMAN - Kingman Police searched for a man who reportedly tried to rob a cab driver Tuesday.
Capt. Rusty Cooper said the driver told police a man unusually short in stature approached her cab while she was parked on Townsend Road near Sycamore Avenue.
Cooper said the suspect opened the rear passenger side door, sat inside and asked to be taken downtown. The man told the 49-year-old woman he only had a few dollars. When she told him the ride would cost more than he had, he poked the woman in the arm with a sharp object and demanded all of her money.
The driver told police that she didn't see a knife but that she believes that's what she was poked with. After the woman refused to turn over any money, the man took off running west down Sycamore.
The suspect is described as black, 5-foot tall and weighing 140 pounds. Police conducted a ground search for more than an hour but could not find anyone matching that description.
A reward is being offered for information leading to the suspect's arrest. Anyone who witnessed the incident or has information is asked to contact the Kingman Police Department by calling (928) 753-2191 or reporting anonymously online at www.kingmanpolice.com.