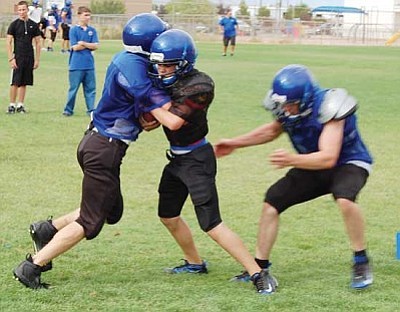 Originally Published: May 27, 2011 6:01 a.m.
KINGMAN - It was a typical autumn afternoon in November for Kingman Academy High football player D.J. Prestia.
Prestia, who led the Tigers in touchdowns, was at practice getting ready for that Friday's semifinal game of the Charter Athletic Association playoffs.
Then his world changed forever.
Prestia came across the middle of the field on a routine crossing pattern when he turned to look for the pass. At the same time, linebacker Sean Windecker was coming right for him to make a play on the ball. The two collided, the force of the blow knocking Prestia's helmet off.
"I was blacked out after that for a good five or six minutes," Prestia said. "All I remember is catching the ball and turning around. I don't remember anything after that. The next thing I really remember was being in the hospital."
Prestia was diagnosed with a Class 3 concussion. According to the Centers for Disease Control, Class 3 is when there is a loss of consciousness, whether it's as brief as a few seconds or for a prolonged amount of time.
"Once they have a loss of consciousness, it is regarded as a severe concussion with regard of athletes," said Dr. Michael Ward, medical director at Kingman Regional Medical Center. "That's going to take them out of sports for at least a week if they don't have any symptoms."
For Prestia, his concussion meant the end of his senior year in football, including a chance to play in the championship game.
"I was really disappointed, but I understood why," Prestia said.
Effective this fall, athletes like Prestia who are suspected of suffering a concussion will have to be removed from play and can't return until a licensed medical professional has cleared them.
The mandate comes from the Arizona Legislature's passage of Senate Bill 1521. The bill passed the House 45-14 and the Senate 30-0. Gov. Jan Brewer signed it into law on April 18.
Among other changes in the law, athletes and parents must be educated about the dangers of a concussion before being allowed to return to play.
"The law is new but our protocol really doesn't change a whole lot with it, and I think it's like that with most schools in the state," Kingman High Athletic Director Tim Casson said. "We've been in front of this for a while."
Prestia said the law is a great idea, though he felt differently last fall.
"I disapproved of them saying I couldn't play for the longest time until I actually figured it out," Prestia said. "I had this counseling class I took and now I really understand how bad it could get."
The bill, which was sponsored by Mesa Senate Republican Rich Crandell, is similar to a bill that went into effect in 2009 in Washington named after Zackery Lystedt. Lystedt was a middle school football player who suffered a brain injury in 2006 after he returned to the game after suffering a concussion. SB1521 is also the latest sign of a change of attitude in society regarding concussions.
"In the past you saw guys get a concussion in the first quarter and play in the fourth quarter," Kingman Academy assistant football coach Ray Smith said. "That's not going to happen anymore. The trainers are going to take their helmets away and not let them back in. That's the way it has to be."
No more just getting your bell rung
In his 27 years of coaching, including 19 at Kingman High, Smith has witnessed first-hand the change of attitude of the last 10 years in regards to concussions. In the 1970s and '80s, the attitude was suck it up and play.
"When I played if you got dinged you played. That's something that's a thing of the past now," Smith said.
Thanks to countless studies and research about concussions and head trauma over the last decade, the old stigma of just getting your bell rung is slowly disappearing. But it's a stigma that plays a part for some parents who might have played high school football in that era.
"I have had students with concussions and their parents are like. 'Oh, he just got his bell rung,'" said Kingman High athletic trainer Jenny Harpest. "As an athletic trainer, I can't say 'oh he just got his bell rung.' I can't say, 'he just got dinged.' I have to classify everything as a traumatic brain injury because that's what it is, and they don't understand when that happens on Friday night, that next Thursday, they're still probably not doing their best in school."
The recovery time for a concussion can vary depending upon severity and if there was loss of consciousness or not and for how long. In Prestia's case, since his was a Grade 3 and he lost consciousness for a significant amount of time, his recovery took longer.
"If they have a Grade 3 concussion, they are going to stay away for at least a week," Ward said. "However, with a prolonged loss of consciousness they could be out for two weeks, and if they have two Grade 3s then they have to be out for at least a month."
According to the CDC, in 1997 there were an estimated 300,000 sports-related traumatic brain injuries in the U.S, most coming from concussions. In some instances, there were cases of individuals suffering from second impact syndrome causing serious injury or death after receiving another concussion before recovering from the first.
In one case, the CDC reported in October 1991 of a high school player getting struck in the head in the first half, then receiving several blows in the second half. The player collapsed in the third quarter and was declared brain dead four days later. According to the CDC, the autopsy showed brain swelling and a small subdural hematoma.
So can a concussion cause death? This is an area where there has been extensive research, according to Dr. Ward.
"An initial concussive event is less likely to cause that type of outcome," Ward said. "It's the repeat concussive events. That's why a lot of the rules are centered on when they can be put back in the environment where they are at risk.
"That's why the week versus two weeks, versus a month comes into play. Because the greater, the more severe, the repetition of their concussive events, the more likely they are going to have a bad outcome, if they have another one."
For Prestia, this meant sitting out of practice and games for the next two weeks, including the championship game, and not participating in any athletic sport for the next six weeks.
"You can only be so disappointed," Prestia said. "Because if I did play, there was a risk of the second hit syndrome where you can die from that."
Continued in Sunday's Kingman Daily Miner.