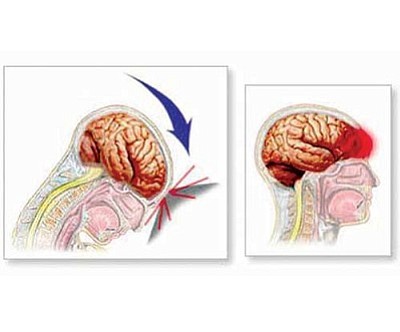 Originally Published: May 29, 2011 6:01 a.m.
KINGMAN - In his 12-year playing career, it is believed that NFL Hall of Fame quarterback Troy Aikman suffered 10 concussions.
In a January interview with the Milwaukee Journal-Sentinel, Aikman said that despite the concussions he is very healthy, but did reveal he still doesn't remember playing in the 1993 NFC Championship game.
While Aikman may be lucky, other former NFL players are coming out with stories, including former San Francisco 49ers lineman George Visger, who told CNN in February 2010 that for the last 20 years, he has had to live his life with hundreds of small yellow notebooks he uses to help him remember things.
"I always have them. They sit in my back pockets," Visger told CNN. "The movie '50 First Dates,' this has been my life for 28 years. I get up in the morning and I have no clue what I have to do that day. If it's not written down, it doesn't exist."
The stories don't stop there. In February, Dave Duerson, a two-time Super Bowl champion with the Chicago Bears and New York Giants, committed suicide. He donated his brain to Boston University so researchers can study the life-long neurological effects of playing in the NFL.
It was believed that Duerson was suffering from chronic traumatic encephalopathy, a debilitating brain injury that has stricken current and former football players.
"They are becoming more educated even at those levels," said Kingman High athletic trainer Jenny Harpest. "They are looked up as being these great athletes, and they are coming out and saying, 'Hey, this is what's going on with me.'"
During the 2010 NFL season there were 154 concussions reported to the league starting in preseason and going through Week 8 of the regular season, an increase of 21 percent from 2009.
The NFL has gone as far as to publicly support laws such as Arizona Senate Bill 1521 in all 50 states and the District of Columbia, and praised the passage of the law. The Arizona law requires athletes to be educated about the risks of concussions, and they must be medically cleared by a licensed medical professional before they are allowed to compete.
"We are pleased that Governor Brewer and the bill's authors, Sen. Rich Crandall (R-Mesa) and Rep. Ben Arredondo (D-Tempe), have recognized that steps must be urgently taken to protect Arizona's children and young student-athletes from preventable concussions and other brain injuries," NFL Commissioner Roger Goodell said in a press release.
While Goodell and the NFL have only recently taken action regarding concussions, Kingman Academy High football coach Eugene Kramer feels it was the high school level that spearheaded the movement long before the NFL ever did.
"The high school level took more of a concern to it a little quicker then the NFL," Kramer said. "The NFL has only taken a major concern to it in the last three years. At the high school level, it's been the last eight years. We've been getting more and more educated and taking a lot more caution than ever before."
Last year, the Tigers had two players suffer concussions; KHS had five. Despite KAHS not having an athletic trainer on site, the school has developed a working relationship with Dustin Brisco of Physiotherapy Associates, who started volunteering his time beginning this past football season.
"Just from a budgetary standpoint, athletics isn't the focal point of the academy," Brisco said. "They approached me about helping out the football team, so I went to their games and did all their on-site injury assessments during the games. I taped the kids along with a couple of other people that helped out."
Another service Brisco has provided is training Kramer's coaching staff on the signs of a concussions. Although not a requirement by the Charter Athletic Association, it is a requirement for KHS football coach Robert York and his staff by the Arizona Interscholastic Association.
"As coaches, we take a concussion course through the National Federation of State High School Associations," York said. "Every coach has to take it."
While both schools have taken all the necessary precautions to insure the safety of student-athletes by providing athletic training and courses for coaches to take, neither school has a designated team doctor. Kingman High Athletic Director Tim Casson did say that KHS does work closely with a couple of physicians in town who team up with Harpest on the treatment for injuries, but they are not designated as official team doctors.
However, a House amendment to SB1521 could alleviate the concern physicians may have about possibly being held liable while volunteering their time and service to a team.
In the amendment, it states that "a school district, school district employee, team coach, official, team volunteer, parent or guardian be given civil immunity for actions taken under good faith in carrying out the requirements of this act."
Another amendment also defines a health care provider to mean an athletic trainer.
"Hopefully that will allow physicians to feel like they can participate," said Dr. Michael Ward, medical director at Kingman Regional Medical Center. "Most of us want to give back to our community. It's not that there is some overwhelming reason not to. You don't want to do it and sacrifice your career. We're human like everyone else."
Changes in technology
For Harpest, the problem she has when trying to diagnose a concussion, is that so much depends on what the athlete tells her.
"Somebody comes into my office and says, 'I think I had a concussion at last night's game, but I didn't notice anything weird on the sidelines.' I have to take them at their word," Harpest said. '"Do you have a headache?' 'How's your vision?' 'Are you having problems trying to concentrate?' 'Are you hungry?' 'Did you sleep well?' There's a hundred different ways, and I have to take them for their word because we don't have anything here to test them."
The good news for Harpest, and others in her situation, is that there is a way to test them. The bad news is the cost for the ImPACT software can run anywhere from $500 to $1,000, depending upon the number of athletes you want tested. With school districts facing budget cuts, an extra $500 to $1,000 could be hard to come by.
"The budget cuts, and the budget in general, affects everything we do," Casson said. "If we deem it's a safety issue and a priority, then it really doesn't matter what the budget is, we will find a way to pay for that. Right now we don't think it is a necessity because of the protocol that we use, but I think it will be a nice thing to have."
Part of the school's protocol, according to Casson, is having a doctor clear an athlete before they are able to return to practice or games, and this includes other injuries as well. Even though SB1521 allows Harpest to clear a player, the protocol takes it out of her hands.
"We don't want to put that on our trainer," Casson said. "I know and she knows that as far as concussions, she is well trained. We just feel better with that protocol."
Casson did say the school is looking to get some sort of baseline testing but didn't give a timetable on when that may be, or if that would be the ImPACT software.
"I think it's a great tool, the big thing is it won't keep you from getting a brain-injured kid, but it will allow you to address how significant the injury is," Ward said.
Developed in the early 1990s, ImPACT (Immediate Post Concussion Assessment and Cognitive Testing) is the most widely used and scientifically validated computerized concussion evaluation system. ImPACT is a 20-minute test that measures multiple aspects of cognitive functioning in athletes, including attention span, working memory, sustained and selective attention time, response variability, non-verbal problem solving and reaction time. It then compares the results with results from a pre-concussion test the athlete may have taken at the beginning of the season to determine a reliable baseline while assisting trainers on when an athlete is available to return to competition.
"If they don't return to their baseline, then they can't play," Ward said. "That's a good thing. I know the kids don't think it's a good thing. We don't raise our kids and put them in sports so they can't function as adults. They are pretty much there to learn and become productive adults. If they get brain injured in sports, then that really defeats the purpose of being a parent."
Currently, there are 27 high schools in Arizona that have ImPACT, along with the University of Arizona, Northern Arizona University and Arizona State University as well as the Arizona Cardinals, Diamondbacks and the Phoenix Coyotes.
"It is a great tool, one of many that could put a student back in play," Harpest said. "It's just something that we don't have here."
The U.S. Army and Navy have also started using it on soldiers and sailors before they are deployed to war zones.
"This was actually looked at as a means of also looking at our soldiers in the battle zone," Ward said. "They started doing testing like this pre-deployment just because of concussion syndromes from bomb blasts."
Besides the change in technology in dealing with concussions, there has been an advancement in technology in the football helmet in trying to prevent concussions before they happen.
York remembers when the bladder, or the padding inside the helmet, would only consist of just a few pads.
"Now your helmets have the entire head covered in pads," York said.
Kramer, who has been coaching for the past 21 years, has seen a more drastic change in the design of football helmets.
"Compared to 10 years ago, we basically went from a junk piece of car to the best car possible," he said. "A Pinto to a Cadillac."
In 2002 Riddell, one of the leading manufactures of football helmets in the country, came out with its Revolution helmet. It was designed to reduce the risk of sustaining concussions and is currently used by close to 83 percent of NFL players.
"Our biggest thing is we try to protect the kid's head with the best helmet that we can come up with," Kramer said. "We're purchasing new helmets this year, just to make it safe for the kids."
It's not just the helmets that are keeping kids safe, it's the change in rules and coaching that is playing a role as well. For example, the NFL adopted new rules on hitting and started fining players who didn't adhere to them. Case in point, Pittsburgh Steelers linebacker James Harrison was fined four different times for hits, totaling a combined $100,000.
"When they look at spearing and no head-to-head contact and some of the other things, they try to institute an increase in the athlete's awareness," Ward said. "Yeah, you're not allowed to do this but there is a reason for this and the reason is it could cause you or the other player harm."
For KAHS assistant coach Ray Smith, it doesn't come down to changes in the rule book, but instead in coaching.
"The biggest change is how we're teaching tackling now," Smith said. "You have to do a good job to make the kids aware to not lead with their head."
However, for KAHS player D.J. Prestia, no new tackling technique, rule change or new state law would've changed anything. He just happened to be at the wrong place at the wrong time.
"D.J. got hit in a collision that was really an unusual collision," Smith said. "Neither kid saw each other. They were both going for the ball and hit at the perfect angle and - bam - it happened."
Prestia still has lingering affects six months after his Class 3 concussion in practice, affects that will probably remain with him for the rest of his life, including dizziness with any fast movement of his head.
But because of his concussion he's a little more careful now.
He doesn't play football anymore, he's a little more careful riding around on his dirt back and is more mindful of making sure he doesn't hit his head.
"I could die from getting another one," he said.
Prestia plans on joining the Air Force, where he would like to drive heavy equipment to build airstrips.
Prior to the concussion he would've loved to fly, but one hit has changed his life forever.
"I would've loved to be a pilot and fly, but I can't because of the strength that your brain has to be. Your brain is getting knocked around," Prestia said. "Mine is just not strong enough to hold up to it. I can't fly because I got a Class 3 concussion when I was playing high school football."