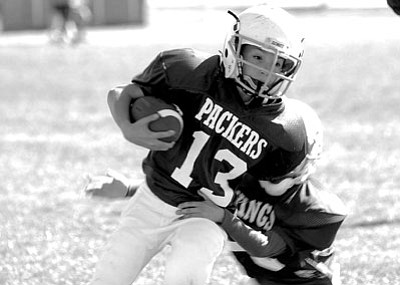 Originally Published: November 3, 2011 6 a.m.
KINGMAN - Noah Grimm had two touchdowns including a 75-yard kickoff return as the Packers improved to 5-0 with a 33-7 win over the Vikings Saturday in regular season week finale of the Kingman Youth Football League.
Andrew Cardiff also led the Packers when he had a 50-yard interception return. Jay Gastineau added a 28-yard run. Parker Taylor also threw a 10-yard touchdown pass to Cole Stutler.
Cowboys 32, Chiefs 12
Led by the offense line of Edmond Aston, Paul Giglio, Mike Jimenez, Dalton Long and Joe Roe who helped lead the way for the offense to score five rushing touchdowns in a 32-12 win over the Chiefs.
Kalani Levrets had a pair of rushing touchdowns, while Enzo Marino, Tyson Levrets and Dallas Edwards each added a touchdown.
Other scores from Saturday included Chargers 21, Raiders 0.
Final regular
season standings
AFC
Cowboys 4-1
Raiders 1-4
Chiefs 0-5
NFC
Packers 5-0
Vikings 3-2
Chargers 2-3
Playoff schedule
Packers vs. Cowboys, 9 a.m. (Note: both teams are No. 1 seeds, the game will be a scrimmage)
Raiders vs. Chargers, 10:30 a.m. (Winner will play Packers next week)
Vikings vs. Chiefs, noon (Winner will play the Cowboys next week)
More like this story