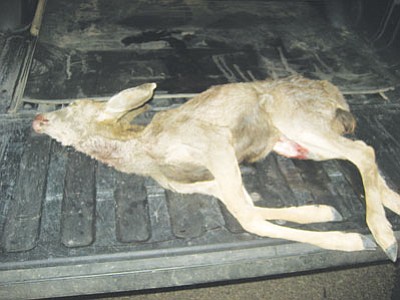 Originally Published: November 6, 2011 6:01 a.m.
KINGMAN - A reward of up to $1,250 is being offered for information on a person who shot a mule deer fawn within the boundaries of Hualapai Mountain Park, where hunting is prohibited.
Game and Fish officials said the fawn was discovered by hikers Oct. 29. Its back had been broken by a bullet. Its mother was still with her fawn trying to nurse it back to health when it was found.
"This animal suffered," said Lainie Antolik, a wildlife manager for the Game and Fish Region 3 office in Kingman. "The fawn was found alive, but it couldn't move. Its mother was still there trying to care for it."
Antolik said hunting is not allowed in the park and that there is no legal season for antlerless deer in Game Management Unit 16A. Those responsible could be cited for waste of game meat.
He added that although no one may have witnessed the shooting, they could have overheard a conversation where someone was talking about the act.
"Through the Game and Fish Operation Game Thief program, we have managed to catch a number of poachers this year," Antolik said. "It's important to remember this is not the act of sportsmen, it's the act of a criminal. Poaching is a crime and I certainly hope we can bring those responsible to justice."
The fawn was euthanized.
The Arizona Game and Fish Department's Operation Game Thief program is offering a reward of up to $500 for information leading to the arrest of those responsible for the shooting, which is believed to have occurred sometime between Oct. 27 and 29. An additional $250 is being offered by the Mule Deer Foundation and $500 from Mohave County Silent Witness, both payable upon conviction.
Anyone with information regarding this case, or any wildlife violation, is asked to call the OGT hotline at (800) 352-0700. Web submissions can be reported via the Internet by going to www.azgfd.gov/thief. Identities will remain confidential. Anyone calling should reference case number 11-001692.