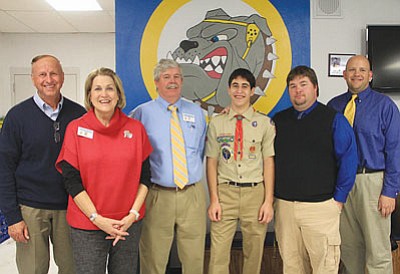 Originally Published: November 6, 2011 6:01 a.m.
KINGMAN - A yellow plaque hangs from one of the walls of the recently renovated Kingman High wrestling room. An inspirational quote is inscribed on the plaque - one that former KHS student Patrick Sides thinks sums up what it takes to be a successful wrestler and person.
It's written by University of Iowa wrestling standout Mark Mysnyk and says: "Most men stop when they begin to tire. Good men go until they are going to collapse. But the very best know that the mind tires before the body and push themselves further and further beyond the limits. Only when all the limits are shattered can the unattainable be reached."
Sides, as part of his push to become an Eagle Scout, created a plan to renovate the once drab, energy siphoning room. His plan included painting the room white - it was a dull reddish brown - installing a widescreen TV and sound system, putting up motivational plaques and a stat board, installing cabinetry and even redoing the bulldog mural.
Sides was a member of the KHS wrestling team up until the beginning of the school year, as he transferred to a high school in Flagstaff because of educational opportunities.
The room's aesthetic is energetic, exciting and gets guys ready to train, Sides said. In wrestling it gets hard to find the motivation to keep going day in and day out, and an uninviting training room doesn't help.
"When guys walk in I want them to be able to say, 'I'm ready to work and do whatever I need to do to be successful,'" Sides said.
The remodeling carried a hefty $6,000 price tag, and if it wasn't for all the donors, it's likely the plan would've never come to fruition.
Whether it was members of the Boy Scouts helping with all the installation, business owners handing over large sums of cash or community members donating whatever they could, the community - as it seems to always do - played an integral part in the remodeling.
Encouraged by his mother, Julie, Sides started in the Cub Scouts when he was 8, moved on to Boy Scouts when he was 11, attained an exclusive membership into the Order of the Arrow and went through all the ranks to become an Eagle Scout in October. The wrestling-room project was done over the summer.
Sides' father, Jerry, said that Patrick's troop leader Gordon Sanchez said this was the most ambitious Eagle Scout project he had seen during his 20 years in the Scouts. Sides is a member of Troop 66.
As a Cub Scout, Patrick promised the leader of the troop, Mr. Martinez, that he was going to become an Eagle Scout. Martinez passed away soon after, but instead of forgetting his promise, Patrick devoted himself to making good on it.
"It was tough for a bunch of 7-year-olds to handle (Martinez's death). But I've always looked at the positive of even the darkest tragedies," Patrick said. "From then on, I knew I was going to be an Eagle Scout."
Patrick said it was a long, hard road, but any time he felt like giving up, he thought back to his promise to Martinez.
"I picked it up from my parents," Patrick said. "They taught me to stand up for what is right and to always keep my word."
Patrick received numerous letters of congratulations from public figures, including one from President Barack Obama and First Lady Michelle Obama.
Patrick, who loved to wrestle for fun when he was young, started organized wrestling when he was in sixth-grade. His skills immediately started surfacing, and he remains one of the most successful wrestlers ever to attend KHS. He went undefeated at Kingman Middle School and made varsity his freshman year at KHS. He took his freshman varsity status all the way to state championships that year and is ranked in the top 10 of all wrestlers to ever practice their craft at KHS.
"He always loved to wrestle," Jerry said. "He just had no structure. He's always been active in sports, but his true love is wrestling.
Patrick's ultimate goal when it comes to wrestling is to someday win an Olympic gold medal.
"That's been my end goal since I started," he said. "It's the pinnacle of wrestling."
The values he has gained in both wrestling and as a member of the Scouts will never leave him. Determination, a strong work ethic and knowing that you can accomplish anything if you set your mind to it will be fresh in his mind 50-60 years from now.
"Wrestling and scouting have had such a positive impact on me that I wanted a room that reflected those feelings," Sides said. "I took two positives from my life and created a larger positive for others to enjoy."