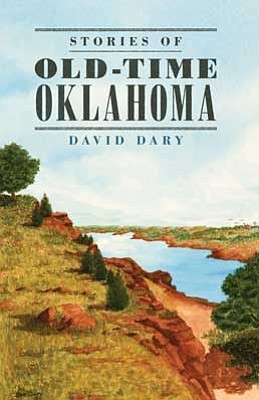 Originally Published: November 11, 2011 6:01 a.m.
"Stories of Old-Time Oklahoma" by David Dary; 978-0-8061-4181-7; 288 Pages; $24.95, Published October, 2011; Hardcover; Published by University of Oklahoma Press.
When driving along the interstates through Oklahoma, not much is seen but flat land and an occasional oil rig.
Award-winning writer and historian David Dary takes the reader into old-time Oklahoma, with colorful stories of its people, places, history, geography and amusing folklore.
In the 1800s, Oklahoma was known as Indian Territor, and was home to the Cherokee, Chickasaw, Choctaw, Creek and Seminole tribes.
Many other tribes soon came and treaties between the U.S. government and Indian tribes established rules for a stable society.
At the same time - and most interesting - was the land run of 1889, which opened Oklahoma to white settlers. Some settlers entered the land sooner than they were supposed to to stake their claims.
Thus, Oklahoma became the "Sooner" state.
Dary takes you on an adventurous historical journey with folklore, some factual, to help in understanding the state's turbulent past.
Others have passed on stories to show how extraordinary people have helped transform Oklahoma's untamed land into what it is today.
The buffalo is the state's official animal. Many thousands of the wild creature were slaughtered for food and clothing. Their bones were used for weapons, which resulted in them almost becoming extinct.
The mighty buffalo blazed many trails for safe passage of wagon trains and cattle drives. Soon, ranching for Indian and whites dotted the landscape and running cattle became profitable for all.
The Indians who lived along the numerous springs and streams discovered Oklahoma's
"black gold."
They found many uses for oil. Some thought it would cure almost any disease.
However, with the invention of the automobile, oil became a necessity.
Strikes started forming that made people such as Phillips, Getty and Sinclair very rich, along with the Osage Indians and many others.
Tulsa was booming and became know as the oil capital of the world.
Legendary people, of whom some were well known and others not so famous, came from Oklahoma.
One outlaw of note, Belle Starr, was a gold seeker convicted of horse stealing. When she got out of federal prison, she was murdered!
A new breed of outlaws evolved, ones who used cars, such as "Pretty Boy Floyd."
Because people were poor, they robbed banks, using a car to get away, which made their heists easier. In those early years, outlaws were sensationalized.
Many Oklahomans left great contributions to society through their art, writing and entertaining.
Well-known artists were native Indians and those from outside Oklahoma who passed through the state to capture the beauty of the country
Frederic Remington made such an impact in Oklahoma that there is a town named after him.
Native born Gene Autry, the "Yodeling Cowboy," went on to be the highest paid Hollywood cowboy star in the 1930s.
Patty Page and Kay Starr followed with multiple gold records.
Stories told by Dary are informative and enjoyable. This book contains illustrations of people, old territory maps and some prominent men and women of that era.
Whether you are an Oklahoma native or have an interest, "Old-Time Oklahoma" comes alive!
An easy to read 5-star book for those who love tall tales or historical events about the Old West!
Publishers Weekly Best-Sellers
Fiction
1. The Litigators, John Grisham
2. 1Q84, Haruki Murakami
3. The Snow Angel, Glenn Beck
4. The Best of Me, Nicholas Sparks
5. Christmas Wedding, James Patterson and Richard DiLallo
Non-Fiction
1. Steve Jobs, Walter Isaacson
2. Nearing Home: Life, Faith and Finishing Well, Billy Graham
3. Killing Lincoln: The Shocking Assassination That Changed America Forever, Bill O'Reilly and Martin Dugard
4. Thinking Fast and Slow, Daniel Kahneman
5. Every Day A Friday, Joel Osteen
Clark Isaacs is an accomplished book critic who is published in local newspapers and national book review lists. He is a member of the faculty of Mohave Community College in Kingman, Arizona. Visit Clark Isaacs at http://clarkisaacs.ning.com.