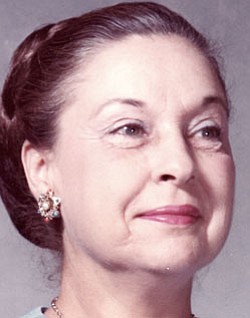 Originally Published: November 13, 2011 6 a.m.
Burnyce LeClair Bower was born Sept. 6, 1922, in Fayetteville, Ark., to Leonard S. Creasy and Delores (Platt) Creasy. She passed away Saturday, Nov. 5, 2011, in the comfort of White Oaks Assisted Living home in Kingman.
Burnyce met and married William B. Bower after graduating from Kingman High School and Phoenix Business College in 1941. "Bill" and "Burney" moved to Texas in order for Bill to attend chiropractic college. They worked, and raised their family in Texas. Burney worked at different jobs and retired as tax assessor for the East Chambers School District. She was active in the Methodist Church and Eastern Star. She enjoyed sewing, cooking, gardening and her white cats. Burnyce moved back to Kingman in 1997 with her son and daughter to be near her local family members.
Mom, grandma and friend will be missed by her three children, Shirley (Larry) Elliott, Candance Keith and William B. Bower Jr.; eight grandchildren, Mike, Robert, Kim, Greg, Milton, Tim, Rachel and Jessica; 10 great-grandchildren; three sisters, Joyce Maberry of Kingman, Annette Nelson of California and Sarah Nelson of Mohave Valley; and one brother, Jim Creasy of Colorado.
Graveside services will be held at 1 p.m. Monday, at Mountain View Cemetery, 1301 Stockton Hill Road, Kingman.