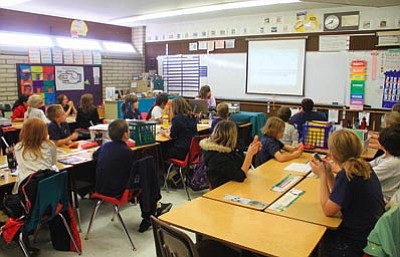 Originally Published: November 13, 2011 6 a.m.
KINGMAN - One of the first items of business for Arizona Ready, a statewide education initiative announced in September, was to issue letter grades based on more than just test scores to all Arizona public schools and districts.
Those grades are out, and many Kingman area schools received high marks.
The Arizona Department of Education issued the Kingman Unified School District a B, while Manzanita and La Senita elementary schools both received A's. Mount Tipton, Black Mountain, Palo Christi and Hualapai Elementary all received B's, while Kingman High and Kingman Middle School earned C's. However, White Cliffs Middle School and Cerbat Elementary didn't do so well, as both received D's.
At Kingman Academy of Learning, the district received a B, and so did its high school. Its intermediate school received an A while the middle school earned a C.
The A-F accountability standards for grades K-8 are based on the percentage of students who met or exceeded the standards on the Arizona Instrument for Measuring Standards, student mobility adjustments, distribution of achievement, longitudinal indicators and test results of English Language Learners. For grades 9-12, the grading system is based on the same factors but accounts for graduation and dropout rates as well.
Growth is a major factor in the grading, with third-grade growth in reading and math measured by comparing AIMS scores in the same domain with second-grade Stanford 10 scores. Similarly, 10th-grade growth in math and reading is measured by comparing AIMS scores with ninth-grade Stanford 10 results.
Within the school grading, 200 points are possible. Half of those are based on a composite score that includes the AIMS results, ELL scores, and for high schools, graduation and dropout rates. The other half of the points are based on growth, with 50 percent of those based on how well the lowest performing students improved.
The vast majority of the 100-point composite score relies on AIMS data, with bonus points awarded for ELL, graduation and dropout rates.
School districts, administrators and teachers have been calling for a growth model in accountability scores since standardized testing became a norm, but now, with growth playing a major factor, many are saying education is on the right track.
"I'm excited about the growth model," said KUSD Superintendent Roger Jacks. "It doesn't matter what level you get students at, it's what you do with them when they're (at a particular school)."
Manzanita Elementary Principal Jeri Wolsey, whose school received an A, said it's common sense to include growth when assessing accountability.
"We've been hoping for student growth in accountability all along," she said.
Despite the strong scores, Wolsey said staying on top of individual student growth remains a challenge. It's very time consuming, she said, pointing to the fact that many of her teachers work extended hours.
The high marks Manzanita received stem from everyone who's connected with the school, from teachers and students to parents and district administrators, and their ability to work as one cohesive unit.
"We're a family more than we are a team," Wolsey said. "It gives us an edge."
Sue Hamilton, the principal at La Senita, said that after looking at the school's AIMS numbers, she had a pretty good feeling the school would get a good grade.
She, like Wolsey, points to the family like atmosphere created by staff, students and parents. In fact, a sign above the school's office says, "Our family."
It's all about everyone involved working toward a common goal, Hamilton said. Parents are integral to success; they back up what the teachers do in class, and the A grade shows that La Senita parents are fully involved, she said.
"We really have to pat our teachers on the back, though," Hamilton said. "I'm so proud of mine. They're in there working with the kids, and it's the relationships they form with their students that are fundamental to success."
Both Wolsey and Hamilton think KUSD is on the right track, but Hamilton said it's the commitment to making technology available to students now and in the future that will help create a solid foundation to propel students into good colleges.
"The district office is on top of its game. The schools are getting the help they need," Wolsey said. "I see great things in the future for KUSD."
Representatives for Kingman Academy were not available for comment due to the holiday weekend.
More like this story