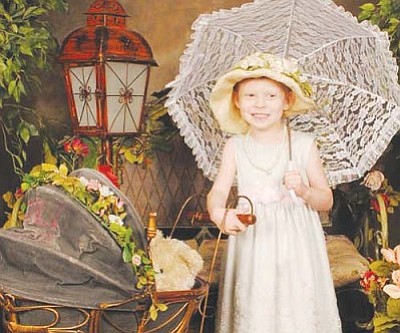 Originally Published: November 15, 2011 6:01 a.m.
KINGMAN - The Faris family was on their way home from Phoenix Children's Hospital Thursday night when they got the best news of the last several months.
"I couldn't even breathe when they told me," said Crystal Faris.
Crystal and Wayne Faris' 4-year-old daughter Emmalynn was diagnosed earlier this year with germ cell cancer and tumors in her tailbone and pelvis. She and her family were returning from her sixth round of chemotherapy when they got the news that scans showed that Emmalynn, who turns 5 next month, is in remission.
"We have a lot to celebrate," Crystal said.
Emmalynn will have one more surgery to remove the port through which her chemotherapy drugs were administered. She'll also continue having blood work done each month and scans done every three months for the next five years to make sure she remains in the clear. Doctors have told the Faris family that there is a 25- to 35-percent chance that the cancer will reoccur, but for now, they are focused on getting Emmalynn and her 2-year-old sister Jillian back to a sense of normalcy.
"It put life in perspective," Crystal said. "I didn't necessarily take life for granted but now it's like a whole other sight has been added to our eyes."
Crystal described the last several months as an emotional roller coaster for her family but said they were buoyed by the support, both financial and emotional, offered by the community. Crystal said she was particularly touched that people still donated to help her family with medical and other expenses despite the down economy.
"Our family cannot thank this awesome community enough for really stepping up and coming together for our family," she said.
The family sends special thanks to Cliff Findlay Auto Center, Findlay Nolte Honda, 66 Auto Sales, KGMN Super Country, St. Johns Methodist Church, Lombardo's, Lee's Uniforms, the Tahbo family, Troy and Mitzie Nolte, Hank and Cheryl Nolte, the Stiers family, the Chevalier family, Time Out Tavern, H&H Printers, Anything Graphics and Web, American Legion Post 14, Unit 81, Unit 57, United Professional Firefighters of Kingman and the Kingman Cancer Care Unit.