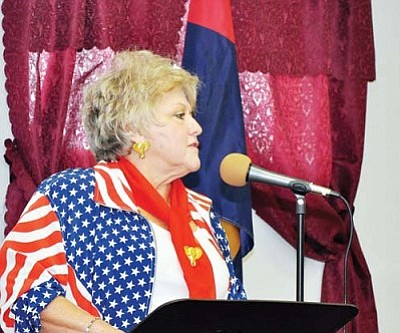 Originally Published: November 16, 2011 6:01 a.m.
GOLDEN VALLEY - Golden Valley residents got a chance to meet a few of the candidates running for the new County Supervisor District 4 seat and other county and state offices Saturday at a meet and greet event held by the Mohave County Republican Central Committee.
A total of seven candidates for the District 4 Supervisor seat spoke at the meeting. The first to speak was Bob Boyd. He moved to the area in 1981 and served as a real estate agent and worked in the construction industry. He moved to take care of family in 1996 and returned to the area in 2003.
Boyd said if elected, he plans to not only represent the people in his district but the whole county as well.
People are not pleased with how things have been going for the last two and a half years, he said. There are a lot of candidates who are running this year that would not have run five years ago. People are fed up and they want someone who will represent them.
"You will not see me vote for any taxes," he said.
At the same time, he would fight to allow county department heads to have a greater say in how the budgets for their departments were cut.
He also called for the Board of Supervisors to fire County Manager Ron Walker and appoint a new county manager. Boyd recognized that Walker has already announced that he was retiring at the end of his contract next year, but what other damages could Walker do in that time period, he asked.
Boyd also said he would remove the security measures put in place by Walker. He would prefer that the Mohave County Sheriff's Office provide security for the building rather than hiring a series of rent-a-cops.
Boyd would also do away with the dress code. The county has a very diverse population and people should be able to walk into the county building feeling comfortable.
Joy Brotherton was another supervisor candidate that spoke at the meeting. She has lived in the county for the last 50 years and has children and grandchildren that live in the area.
"My roots run deep and so does my passion for this county," she said.
She has spent the last 30 years in the real estate industry and knows what it is like to struggle.
Brotherton said she is committed to bringing more business to the area.
"I am committing myself to serving everyone in this county," she said.
Curtis Cutshaw from Kingman is a new face in the supervisors race. He said he has lived in the area for the last 50 years.
"I have a lot of passion for this area. This is a wonderful place to live," he said.
Cutshaw said he has been involved in a number of area committees and worked in the auto industry for 32 years.
"I know how to handle a budget," he said.
Choosing a new county manager is a big responsibility, Cutshaw said. The person has to be qualified and be able to run the county like a business. They also need to be a leader and believe in what they are doing.
The county manager also has to be willing to listen to the public, he said. There are many problems and there isn't always a solution, but just giving people some of your time to hear them out can make a difference, Cutshaw said.
Former County Planning and Zoning Chairman Earl Hamlyn is also running for the seat. He said he has lived in the area for the last 22 years and runs a local TV station.
District 4 has seen the most growth in the last few years and has the potential for even more growth, he said. The economy has changed things a lot.
"I've put a lot of time into this county, but I need your help to make it better," Hamlyn said. "I want to change the image of the county."
Tanya Smith is another new face and new to politics. Smith said she has never run for office before or even been interested in politics until two years ago.
She said she decided to run for District 4 because, "I got tired of not seeing myself in any of the candidates, and I have a teenager who has been encouraging me to run."
"The county is full of citizens who don't have respect for the Board and the Board doesn't have any respect for the citizens. The county manager doesn't understand where the public is coming from," Smith said. If elected, she pledged to be honest and open with the public.
Rick Sherwood, a current County Planning and Zoning commissioner, was also on hand to speak about his race for District 4.
"When I moved to the area I knew that I wanted to get involved with the community," he said.
Sherwood said he has the budget and business experience from his time working as team leader with Weyerhaeuser to serve as a county supervisor.
"Serving on the County Planning and Zoning Commission has been one of the best experiences," he said. "I've seen the issues and most of them are simple things that can be fixed easily."
Sherwood said he would bring back the Call to the Public. The Board hasn't had a call to the public for several years.
He would also reconsider the changes made to the County General Plan a year ago that stripped the water resource plan from the document.
"We have a water problem. We need to develop responsibly," Sherwood said. "The county also needs to work with the Legislature to return authority over water consumption back to the counties."
He would also eliminate the dress code. County residents come from all walks of life and should be able to dress accordingly, he said.
Sherwood said he would also work on improving economic development in the county.
"We need to dig ourselves out of the basement. We need a strategy and a tactical plan," he said.
Sherwood said he would also make it a priority to visit every community in his district and learn what issues they were facing.
Sandi Reynolds was the last of the supervisor candidates to speak and announced that she was withdrawing from the race.
She said she decided two years ago she was going to run for supervisor, but things have changed. Reynolds threw her support behind Sherwood.
To see what the other state and county candidates at the event had to say, see tomorrow's Miner.