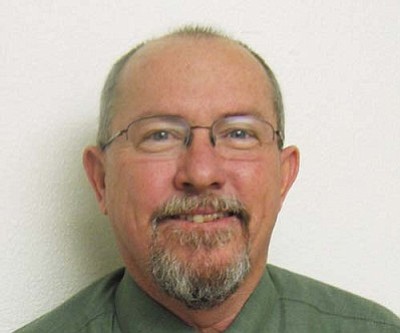 Originally Published: November 16, 2011 6 a.m.
KINGMAN - City Council candidate Larry Carver doesn't plan on bringing an agenda into 2012's election, but he is determined to get answers to questions on the community's mind.
"I want to be the person people can turn to and say, 'Hey Larry, what's going on with this?'" Carver said. "I want to be someone the community can trust."
Carver, a former Highway Patrol Officer and current financial advisor with Edward Jones, said he thinks the current Council is doing a good job. However, he would like to see the community grow and hopes to seek the best way to do so if he is elected to office.
Growth may increase tax revenue, Carver said, but it also creates the need for more city services. The challenge is balancing the two, he said.
When speaking of community growth, it's inevitable that big business versus small business comes up.
"Businesses have to be able to grow with a community," Carver said. "In some ways, small businesses need to adapt, as bigger businesses often offer cheaper products."
For instance, a small business creating a product that a bigger business buys is a form of adaptation, and in many ways is a best-case scenario, Carver said.
Carver doesn't see uniform incentives offered to potential businesses as being a good idea. He said there are trade-offs that must be looked at on a case-by-case basis in order to weigh what's best for the community.
Carver, who was a small business owner at one time, sees the value in local businesses. These small businesses make Kingman, and the atmosphere they create need to be maintained, but that doesn't mean larger companies can't have a place here as well, he said.
A conversation about Kingman wouldn't be complete without a mention of the city's ailing roads. The longer roads go without maintenance, the more expensive it gets, Carver said. As a Council, ways to maintain the city's infrastructure must be found, he added. Since the city already has a rotating maintenance schedule, Carver would suggest using it to define which roads get repaired first, unless another road gets so bad that it needs to be pushed forward in the schedule.
Many argue that the city has a spending problem while others argue that it's more of a revenue problem due to the economy and the state balancing its budget on the backs of Arizona communities.
"We would all like to have revenue, but that's taxes," carver said. "There may be spending issues, but that means services would need to be cut. I feel like the city is trying to balance both of these. Either way, all issues have to be looked at."
"Where do you start cutting back? That's what I would like to find out," he said.
Of the aspects of Council Carver thinks he can improve, information dissemination is at the top of the list. It's important to be out in the community spreading information to everybody, Carver said.
"The Council does a good job of being involved and being seen," Carver said. "I'd like to be able to continue that."
Carver also referees youth soccer in his spare time. If he is elected to Council, it's inevitable that he won't be able to do that as much as he would want, but at the same time sitting on a government entity would be a new experience and a real eye opener.
"Let's make (local government) understandable," Carver said, "and work together to make things happen."