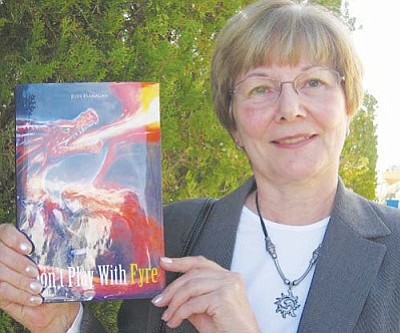 Originally Published: November 17, 2011 6:01 a.m.
KINGMAN - A local author will sign copies of her first book, "Don't Play with Fyre," from noon until 3 p.m. this Saturday at Hastings.
Judi Flanagan said she has already started working on a follow-up to the story of Molly Fyre, which starts with her learning on her 20th birthday that she is an Immortal. The fantasy tale revolves around Molly's journey to recover the Krystal of Carolan after it was stolen from Molly's benefactor by his enemy, the Keeper of Dax.
Along the way, Molly uncovers secrets about those who accompany her on her quest as well as secrets about her own past.
"It started out as a quest that evolved into (Molly's) self-discovery," Flanagan said.
Flanagan, who said she is an avid reader of fantasy and the supernatural, began writing Molly's story after retiring from her 40-year nursing career. Writing a book was on her bucket list, she said, and though she has always written short stories, she said she found herself caught up in the lives of her characters during the yearlong process.
"I knew how I wanted to begin it and I kind of had an idea of how I wanted to end it," she said.
The heart of the story, however, was carried by the characters themselves, she said. While Molly learns about herself throughout the book, she also learns that the people around her aren't exactly who they seem.
Flanagan said the story is appropriate for teenagers and adults. Copies will be available on her website, www.judiflanagan.com or at Saturday's signing.