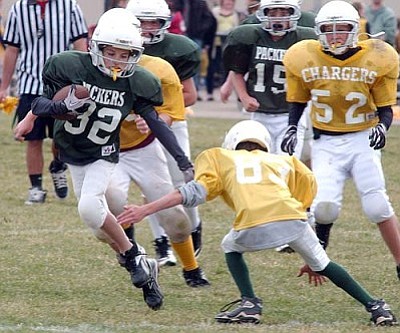 Originally Published: November 17, 2011 6:01 a.m.
KINGMAN - The words Packers, Cowboys and championship game, might resonate images of the 1967 NFL Championship and the "Ice Bowl." But the Kingman Youth Football League's version this weekend won't quite have that same feel.
Instead of the frozen tundra of Lambeau Field and below zero temperatures, the game will be at 5 p.m. Saturday at Kingman High School with temperatures in the low 50s.
Instead of Bart Starr, expect Parker Taylor leading the Packers and don't expect Don Meredith for the Cowboys, but instead Landon Jones.
The Cowboys advanced to Saturday's KYFL Super Bowl with a 13-7 win over the Vikings.
Jones had a 35-yard touchdown run while Kalani Levrets scored on a 70-yard run and added a 5-yard run later.
The Packers advanced to the title game with a 32-20 win over the Chargers.
Taylor found Jimmy Gastineau on a 30-yard touchdown pass and Noah Grimm scored on three rushing touchdowns on runs of 40-yards, 49-yards and 52-yards while Derrick Kelly added a 27-yard touchdown run.
Saturday's other game had the Raiders defeating the Chiefs 20-6.
The KYFL Super Bowl will kick off at noon with a cheerleading competition with the winning cheer team performing at halftime during Super Bowl. The Chiefs and Raiders will play following the cheerleading competition and the Vikings and Chargers will play around 3 p.m. with the Super Bowl set to kick off around 5 p.m.