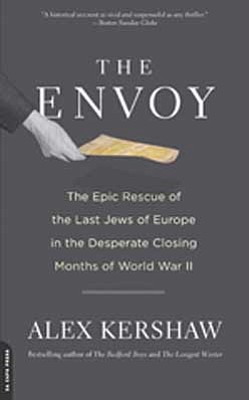 Originally Published: November 18, 2011 6:01 a.m.
The Envoy: The Epic Rescue of the Last Jews of Europe in the Desperate Closing Months of World War II by Alex Kershaw; 978-0-306-82043-4; 336 Pages; $16; Published November 2011; Paperback; Published by Da Capo Press
When World War II was coming to a close, many Jewish exiles felt they were safe living in Budapest, Hungary. Thousands of families lived in ghettos and were segregated from the rest of the Hungarian community in what they thought would be a haven from the Nazi war machine.
"The Envoy," by Alex Kershaw, describes the efforts of Raoul Wallenberg to save over 100,000 Jews from the gas chambers of Auschwitz and other concentration camps. Wallenberg, a 30-year-old Swede, came from a well-respected family that was very active in diplomatic circles. Wallenberg was an educated and worldly man. He studied in the United States and traveled to the Mideast, which his grandfather encouraged him to do.
Wallenberg was able to use his negotiation skills to obtain funds for the rescue of Jews in Budapest from the United States' ambassador in Stockholm. He received $200,000 from the War Refugee Board in Washington and other support for his rescue mission. When he started his quest, an estimated 12,000 Hungarian Jews died in Auschwitz every day. Upon getting his clearance and funds, he immediately left to begin saving lives of other prisoners.
Kershaw brings to light the efforts of one man to save so many from the Holocaust.
The research done by Kershaw is outstanding. He was able to reference conversations he had with survivors, family, and others who had direct knowledge of the events that Wallenberg had been a part of.
The book does a good job of telling stories of survivors and how they interacted with Wallenberg, and the impact that he made upon their lives. What makes this an excellent tribute is the way Kershaw makes the characters' lives seem real as if you were reading a historical novel. Yet, the stories of the survivors mentioned are the documented truth!
One of the ways that Wallenberg saved lives was his creation of a document he called the "Shutzpass." He issued thousands of these passes to Jews who had any connection with Sweden. The connection could be that they had written a letter to someone there, or had purchased Swedish goods. The Shutzpass saved people from a trip to the gas chambers. Once they had these passes, they lived in secret safe houses established throughout Budapest by Wallenberg.
When the Soviets drove the Nazis out of Budapest, Wallenberg voluntarily went to provide assistance to the Jews that remained. He disappeared in 1947 behind the Soviet curtain. Since that time, his family never gave up hope in trying to find him.
There have only been two foreigners given honorary United States citizenship: Winston Churchill and Raoul Wallenberg, who was bestowed the honor by President Ronald Regan as he eulogized him on October 5, 1981, when he said, "What he did, what he accomplished, was of biblical proportions."
"The Envoy" is a monumental 5-star book.
Publishers Weekly
Best-Sellers
Fiction
1. Zero Day, David Baldacci
2. The Litigators, John Grisham
3. Hotel Vendôme, Danielle Steel
4. The Best of Me, Nicholas Sparks
5. 1Q84, Haruki Murakami
Non-Fiction
1. Steve Jobs, Walter Isaacson;
2. Killing Lincoln: The Shocking Assassination That Changed America Forever, Bill O'Reilly and Martin Dugard
3. Jack Kennedy: Elusive Hero, Chris Matthews
4. Nearing Home: Life, Faith and Finishing Well, Billy Graham
5. Blue Nights, Joan Didion
Clark Isaacs is an accomplished book critic who is published in local newspapers and national book review lists. He is a member of the faculty of Mohave Community College. Visit Clark at http://clarkisaacs.ning.com.