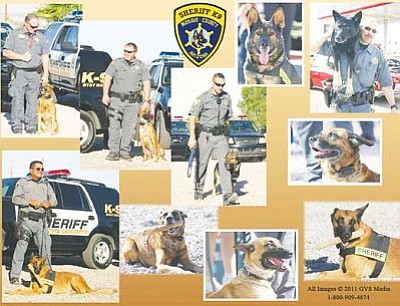 Originally Published: November 18, 2011 6:01 a.m.
KINGMAN - Two demonstrations by the Mohave County Sheriff's K-9 unit will be a part of a celebration Saturday at a local auto dealer.
The party at Cliff Findlay Auto Center is part of the 100th anniversary of Chevrolet. General Manager John Cole said numerous events are slated to run from 11 a.m. to 2 p.m. K-9 demonstrations will take place at 11 a.m. and 1 p.m. KFLAG 94.7 FM will be doing a live remote throughout the afternoon and will draw a name at random every 10 minutes for a football-themed competition. Contestants will kick a football from a distance and those who get it into the bed of a truck will win prizes including a big screen televison and an outdoor grill.
Free pizza and drinks will also be available and a classic car show will round out the day.
Before and after the K-9 demonstrations deputies will be selling calendars of the dogs and their handlers in action to raise funds for the program. The K-9 program is supported nearly entirely through donations. Calendars are $10 each and available at the Sheriff's Office, 600 W. Beale Street.
Cliff Findlay Auto is located at 3730 Stockton Hill Road. For more information, call (928) 757-4041.