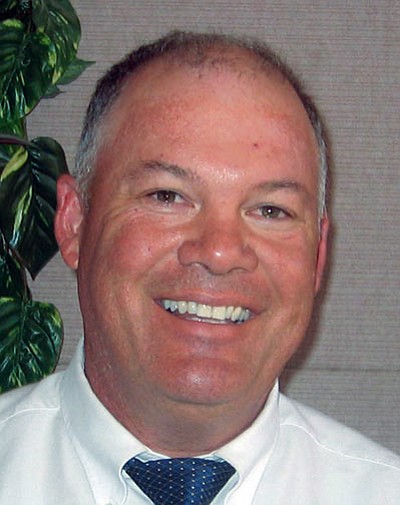 Originally Published: November 20, 2011 6:01 a.m.
KINGMAN - Kingman Mayor John Salem and city employee Lisa Rusin plan to marry in the near future, and some in the community some say it will hamper Salem's ability to make objective decisions when it comes to city employees.
Salem disagrees.
"I will always be objective," Salem said. "I've always been objective with any issue I've voted on."
Salem doesn't believe a conflict of interest will be created by the marriage. He maintains that his personal life is personal, and that it will not, nor has it ever, affected his performance as mayor.
Unless the city's legal counsel advised him against voting on an issue that directly affects city employees - such as furloughs - Salem said he would still cast a vote.
Rusin was in a relationship at one time with a city employee who was one of her supervisors. The man ended up leaving his employment at the city in 2006 due to the relationship, but it is unclear whether he resigned or was terminated.
Salem said he wasn't the mayor when this particular situation happened and, therefore, has no comment. He added that this is also the first time he has a romantic relationship with a city employee.
According to the city of Kingman personnel rules and regulations, "The city has no desire to become involved in the lives of employees. Employee personal relationships whether involving other employees, family members, or other individuals, on their personal time and off city property are outside the city's area of responsibility.
"However, the city will become involved and will take appropriate action if problems resulting from such relationships manifest themselves on the job, or a supervisor engages in such a relationship with a subordinate who reports directly and immediately to him/her. Or if the involved supervisor has influence over the other's employment, promotion, salary administration, or other relevant management or personnel considerations."
"At a minimum, a transfer will probably result from those instances where the relationships of employees meet this policy. The city manager shall order the transfer. ... The transfer shall be made as soon as possible but no later than 90 calendar days after the situation is brought about. If there is no vacant position to which to transfer within 90 days, one of the employees must resign or be involuntarily terminated."
These are the rules city employees must follow, but Salem is an elected official.
Jami Hoffman, who serves as general counsel to the League of Arizona Cities and Towns, said conflict of interest statutes are all about the money. She added that there is nothing inherently wrong when a conflict emerges, it is what the elected official does with the conflict that matters.
If a substantial conflict of interest is present, all an elected official needs to do is declare the conflict in the public record - this can even be done during a public meeting - and then refrain from voting on issues related to the conflict.
One might argue that an elected official who's married to a public employee may need to declare the relationship as a conflict and refrain from voting on any issue that might impose a financial benefit or detriment to the employee, explained Hoffman.
However, Hoffman added that conflict issues are evaluated on a case-by-case basis, and the best way for an elected official to deal with potential conflicts is to seek legal counsel from the city's attorney.
Even if a legal conflict is not present, it's smart for elected officials to run their actions through the "headline test," Hoffman said. In other words, it's probably a good idea for elected officials to question how their actions might look on the front page of a newspaper.
The conflict of interest statute is broad and incredibly hard to define, Hoffman said, so the only way to be safe is to seek counsel.
City Attorney Carl Cooper was not available for comment before deadline.