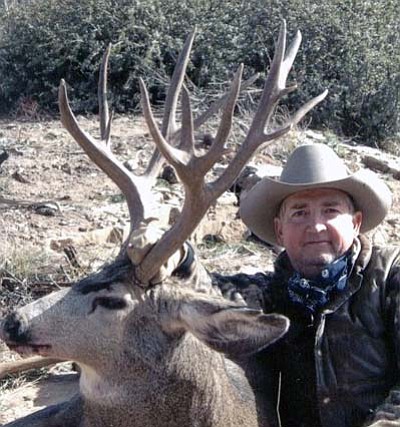 Originally Published: November 23, 2011 6:01 a.m.
Mohave County is blessed to be called home to arguably the best mule deer hunting in the country.
This area is located north of the Colorado River in northwest Arizona. It is the wild and rugged country known as the Arizona Strip.
The units most often associated with the Strip are Units 13A and 13B. Both are located on the north side of the Grand Canyon in northwestern Arizona.
However, most local hunters refer to Unit 13B as the Strip.
This huge and marvelous unit is comprised of over 1.5 million acres of land that, for the most part, have not been significantly touched by the hands of man.
It is a unit that has a variety of eco-systems including desert, Ponderosa pine, grasslands and juniper forests.
This rugged land of colorful vistas and mountains make for some great mule deer habitats, and under the careful management of the Arizona Game & Fish Department, this unit typically produces some of the largest bucks taken every year in Arizona and the United States.
With that being said, it can be the most difficult mule deer tag to draw. True odds are about 100-1, but when Lady Luck smiles on sportsmen who apply from all over the nation, they have a chance to tag a large or unique older age class buck.
This year, a fair number of Mohave County sportsmen were on the list of successful applicants.
Kingman residents Lamont Wolsey and Scott Snay got drawn, as did three sportsmen from the Bullhead City/Mohave Valley area. One sportsman from Lake Havasu was also drawn.
I'm not sure how they all fared, but I heard that Wolsey, who was hunting with a top mule deer guide, bagged a tremendous buck that scored 206 Boone & Crockett points!
From the photos I have seen this year, a lot of bucks taken scored over 190 B&C points, so it looks like it was a good year to have an Arizona Strip deer tag.
I had the opportunity to assist a couple of the lucky sportsmen in various capacities this year and both did very well.
One young lady from Payson drew a Strip tag on her first ever application. She and her family had never been to the area and never did a day of pre-season scouting before the hunt started.
I got a call from her father-in-law just before the hunt started and I agreed to provide information and even one of my guides for their hunt. The spot I sent them to produced a wide, heavy antlered 5 X 4 buck that scored 201 B&C on the third day of their hunt.
My good friend Jay Chan and I went up to help Nevada resident and veteran big game guide George Flournoy, who was one of over 200 non-residents who had the maximum number of bonus points this year going into the draw. Six non-residents were drawn for this hunt and Flournoy had tag number 5.
Only 65 tags were issued by the AZ G&F Dept. for this 10-day long hunt.
Flournoy is well-known in the outfitting and guide business, and has hunted and guided on big game hunts all over the world.
His stories of folks he hunted with were never ending. He's hunted with the Primos team and he's personally guided rocker Ted Nugent. He says that the "Nuge" is as zany in person as he is on his television shows.
We also found out that Flournoy wasn't a hunter who was score-driven. For him, it was all about the hunting experience.
He had never been on the Strip before, and he knew that under the current draw system, he would never be there again, so he wanted to have a good time and a good hunt.
We looked at a lot of country and saw about 35 bucks. A couple of them were in the "Big Boy" range, but Flournoy chose to pass on them.
Finally on Day 9, it was Flournoy with his ancient collapsible Swarovski ST spotting scope, who spotted a buck in an old burn that was trailing nine does that he decided to take.
This buck wasn't wide by Strip standards. It measured only 26 inches from tip-to tip, but he had points jutting out all over his thick, tall heavy rack.
Flournoy, using an equally ancient 243 rifle, made a heck of a shot on this buck at 250 yards.
Flournoy's buck has an amazing 22 scorable points, 11 on each side.
His right antler had four eye guards, while his left had two.
The 62-year-old Flournoy has taken a lot of deer in his lifetime, but he had never taken a non-typical buck - and this one sure filled the bill.