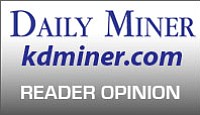 Originally Published: November 23, 2011 6:01 a.m.
In response to the letter on Nov. 18 about El Palacio's paint job:
If a person has ever seen the buildings in San Francisco, or, say, Martha's Vineyard, that person would appreciate the eye-popping colors at the corner of Fourth and Andy Devine.
Thank you, El Palacio, and all the other businesses for the transformation.
The other businesses downtown should take note!
Fermin and Manuela Esquibel
Southside Residents
Kingman