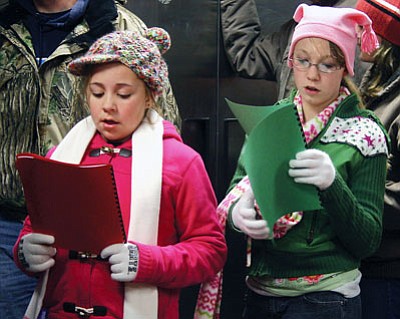 Originally Published: November 23, 2011 6:01 a.m.
HUALAPAI MOUNTAIN PARK - Santa Claus will be back at Hualapai Mountain Park for Mohave County's fourth Hualapai Wonderland.
The Fourth Annual Santa's Hualapai Wonderland will take place at Hualapai Mountain Park from 2 until 6 p.m. on Saturdays and Sundays, Dec. 3, 4, 10 and 11.
Mohave County Parks Department is, once again, preparing to celebrate the Christmas season with its annual four-day event, County Parks Administrator Shawn Blackburn said. "This is a family festival with hay rides, toasted marshmallows, hot cocoa, Christmas lights and decorations and, of course, Santa Claus will be on-hand to visit with the children and pose for pictures."
Visitors will pay the standard one-day admission fee of $5 per carload, "or they can show their annual pass at the gate," he said. "Visiting with Santa is included with the admission fee and families can take their own photos of their children with Santa if they like. There will be a professional photographer available to take photos as well. Last year, the photographer charged $5 each for photos."
Hot cocoa, cookies, hayrides and marshmallow roasting are included during the four-day event at no additional cost, Blackburn said. "We will have elves in Cabin 16 who will assist children in making their own holiday ornaments. The Post Office will have people on-hand to help children write letters to Santa, and then will deliver them for the youths. The park will be highly decorated for Christmas. Several of our local businesses have adopted some of our cabins to decorate for the holidays."
Food vendors will be on site. They include Porky's Barbecue, Stromboli's Pizza and Donuts to Go, and Gotta Latte will offer coffee and other drinks.
Although all activities will take place from 2 until 6 p.m. December 3, 4, 10 and 11, "the decorations and displays can be viewed any day from December 3 through January 1," Blackburn said. "The park will remain open for all regular activities including hiking, camping and cabin rentals. And, weather permitting, we hope to have sledding, snowball throwing and snowman making going on. This is a Mohave County Parks event and everybody in the department pitches in. I'll be driving a hayride. We have put together a whole lot of activities and family fun."
The park is located at 6250 Hualapai Mountain Road. For more information, call 928-681-5700 or visit www.mcparks.com.
"This is the best time of the year to visit Hualapai Mountain Park," Blackburn said. "We hope many people will enjoy this Christmas family event."