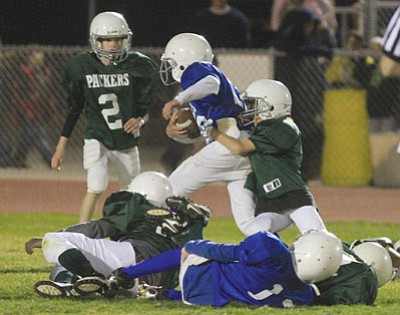 Originally Published: November 24, 2011 6:01 a.m.
KINGMAN - Noah Grimm's three rushing touchdowns led the Packers to a 31-6 win over the Cowboys in the Kingman Youth Football League's Super Bowl Saturday at Kingman High School.
Grimm scored on runs of 17, 40 and 40 yards. He was named Most Valuable Player of the game.
"We had a great year and a great bunch of kids," Packers coach Joe Juelfs said.
The Packers offensive line consisting of Kael Juelfs, Tucker Humble, Tyler Polley and Cameron Knight, Patrick Hunter and Cole Stutler helped to create holes for running backs Jay Gastineau's 2-yard touchdown run and Jimmy Gastineau's 10-yard touchdown run.
The Cowboys lone score came off of Kalani Levret's 20-yard touchdown run.
"We had a good year," Cowboys coach Rob Davis said. "My Cowboy players played their hearts out all season. I'm really proud of them for making the Super Bowl."
In other games played Saturday, the Chargers defeated the Vikings 13-7 while the Chiefs beat the Raiders 6-0.
More like this story