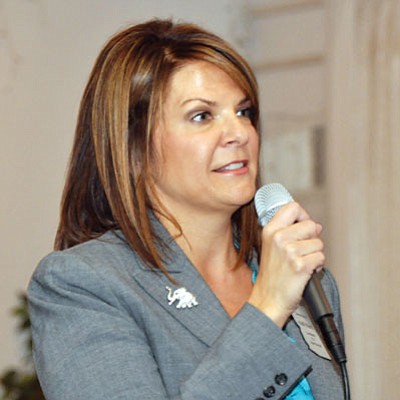 Originally Published: November 24, 2011 6:01 a.m.
KINGMAN - The Kingman Republican Men's Club had a full house Monday after inviting Arizona Senate candidates Kelli Ward and Sam Scarmardo to its regular lunch.
Both candidates live in the Lake Havasu City area. Scarmardo owns and operates Sam's Shooters Emporium and Ward is a family physician who works in both Lake Havasu and at Kingman Regional Medical Center.
Current Sen. Ron Gould cannot seek re-election due to term limits. He is contemplating a run for Congress. State Rep. Nancy McLain has also reached her term limit in the Arizona House of Representatives. She is waiting until January to announce her run for state Senate, so she doesn't have to resign her seat.
Scarmardo said no training was necessary for him to step into the role of state senator. He listed his years as a business owner, a Lake Havasu City Councilman, Lake Havasu acting mayor and vice mayor and his work on several county boards.
He said he is pro-life, a strict constitutionalist, a life-long member of the National Rifle Association and a firm believer in securing the state's borders against illegal immigration.
"I pledge to never vote for a tax increase," he said. "I also pledge to read every bill. I work to represent you guys, not the governor."
Scarmardo also pledged to give regular reports to county residents on what is going on in the Legislature.
Ward said the reason she wanted to run for office was because she was tired of waiting.
"It was time to get off the sidelines and get into the game," she said.
There is no physician currently serving in the Arizona Senate, Ward said.
"As a physician, I am faced with multiple complex problems every day.
I know how budget cuts will affect the (Arizona Health Care Cost Containment System), Medicare and Medicaid," she said.
Every state should have its own health care laws and reforms, Ward said. Each state could be its own health care laboratory - if you don't like the health system in one state, you can move to another, she said.
Education is another important issue for Ward; both of her parents were educators. Parents should have the ability to choose which school to send their child to, whether that school is private or public or a home school.
She also believes in securing the border from illegal immigration.
"We need to make sure to secure our borders, but we also need to embrace those who come here legally," Ward said.
Republican Men's Club President Dr. Laurence Schiff asked the candidates if health care was a right and at what point do you cut off benefits such as AHCCCS to people.
"It's a privilege. If you say it's a right then you have to provide it, you have to force someone else to pay for those that can't afford it. That takes away the rights of others," Ward said.
Ward also called for drug testing for anyone applying for benefits such as AHCCCS and food stamps. There needs to be consequences for those who try to scam the system, she said.
The safety net needs to become less of a feather bed, she said. People should feel a little uncomfortable about using public assistance. She suggested returning to physical food stamps instead of allowing people to use a debit card system.
Scarmardo agreed that health care is a privilege and that there needs to be means testing for those asking for help.
"People need to take responsibility for themselves," he said.
Former Kingman Mayor Les Byram asked Scarmardo if he could truly represent Mohave County and Kingman after voting to move the county administration building out of downtown Kingman in the late 1990s.
Scarmardo said he voted against putting the new county administration building in Kingman because he thought the facility should be located an equal distance from all of the three major cities and the county could get the land cheap.