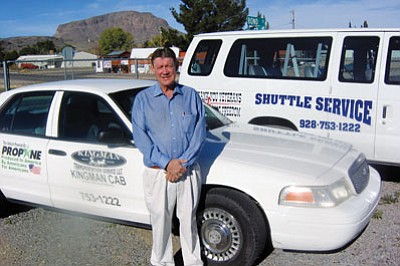 Originally Published: November 27, 2011 6:01 a.m.
KINGMAN - Over a period of 70 years few things remain constant, especially in business. But one organization, the Kingman Cab Company, opened in the early 1940s and continues to provide service to the area to this day.
Company President Keith Nelson, however, hasn't been around since the start. In fact, he took over less than three years ago, yet he is determined to make a difference in the company and the community now.
Nelson recently created and initiated several programs and hopes to add more in the near future.
On Friday, the company started offering shuttle trips to Laughlin for $15 each way. Two trips per day Monday through Friday is the current plan - one at 9:30 a.m. and the other at 5:30 p.m.
The initial pickup occurs at the new Safeway, 3970 Stockton Hill Road, with a subsequent pickup at the Powerhouse, 120 W. Andy Devine Ave. Nelson said the shuttle service will also make stops at the Maverik Country Store in Golden Valley, 5031 Highway 68, and in Bullhead City. Once in Laughlin, riders can be dropped off anywhere on South Casino Drive.
"We did this over a year ago," Nelson said. "But we couldn't get the ridership."
Nelson believes he didn't invest enough in advertising then and hopes he can make the program a mainstay this time around by generating community awareness.
The shuttles seat 13 comfortably, and anyone interested should call the Kingman Cab Company at (928) 727-1311 to make a reservation and inquire about pickup times.
Another program currently offered by the company is the "Free Ride Back." The goal of this service is to curb drunk driving, and here is how it works. You go out one night and have one too many drinks; you don't want to drive but the thought of paying for a cab ride home and a cab ride back to your car in the morning is not very appealing. With "Free Ride Back," you pay for the initial cab ride home, and in the morning Kingman Cab will pick you up and take you back to your car for free.
Then there's the "Lucky 7" program, which offers one free ride after the purchase of six. The prices of the initial six rides are averaged, and that number is used to determine the amount waived on the seventh ride. So, if your first six rides average $10, the seventh ride costing $10 is free. Let's say your seventh ride is $20. If that's the case, then all you need to do is pay the difference. However, if that seventh ride is $1 more than the average of the first six, the whole ride is free.
Nelson said the company is offering free rides to worship services during Saturday afternoons and Sunday mornings for people who need it. This will be done on an honor system, Nelson said, as he doesn't want his drivers shuttling people back-and-forth to church if they can get there on their own.
There are plenty of people in this community who want to go to church but for one reason or another can't get there on their own.
"This is a way to bridge that gap," Nelson said. "It's a community service that hopefully builds company loyalty."
Nelson is in the process of converting the company's eight vehicles to run on propane. Vehicles that run on propane require less maintenance, Nelson said. Add that to the fact that the fuel is a few cents cheaper per gallon, the vehicles practically have zero emissions and most propane is made in America, and you can see why Nelson is converting the vehicles.
"I'm developing a vision of where this company is going while keeping the community on my mind," Nelson said.
Visit kingmancabco.com to learn more about the company and its special offers and browse rates, which are adjusted depending on where you're going and whether or not you're a senior or veteran. To get a cab, call (928) 752-1222.
More like this story