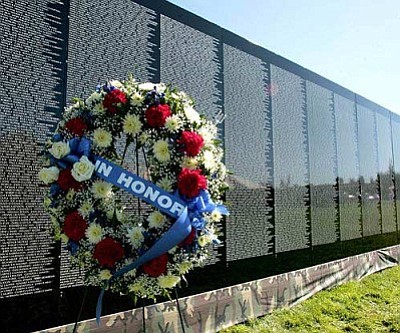 Originally Published: November 28, 2011 6:01 a.m.
The North Mohave County Patriots and The Vietnam Veterans of America, Mohave County Chapter 975, would like to thank all of our sponsors and volunteers for making The Moving Wall a very big success while here in Kingman! Volunteers worked many hours helping find names on the wall and to do etching of the names. I also want to thank all of the volunteers who read the names of all the Arizona Fallen on the wall. There are 621 soldiers on the wall from Arizona.
This was one of the biggest and best events I have been involved in, and it could not have happened without the following:
City of Kingman, Kingman Parks and Recreation, KRMC Foundation, Taco Bell of Kingman, Patriot Guard Riders, Kingman Daily Miner, T.R. Orr Inc., KGMN Radio, Hampton Inn, Discount Sign, Mother Road Harley-Davidson, Mohave County CERT Team Kingman, Kingman Army Airfield Historical Society and Museum, Kingman Police Department, Kingman Fire Department and Mohave County Sheriff's Department.
Also, thanks to Arizona State Prison Complex-Kingman, Marine Corps League, D&G Towing, NuCor Steel Plant, True Value Kingman, Walgreens Drug Store Kingman, CVS Pharmacy Kingman, Safeway Kingman, Walmart Kingman, Kingman Veterans Memorial Trust, Heaven's Scent Florist, Southwest Hospitality Supply, National Bank of Arizona Kingman Branch, Trotters RV, Mervin Fried, Freiday Construction, Dennis H. Creal, Willard and Christine Parsons, M. Dale and Lorraine S. Parry, Jim and Peggy Hamm and Kingman Portable Toilets.
Thanks too goes to Beale Street Brewery, Siren's Café, Carl's Jr. Kingman, Castle Rock Bar & Grill, Mi Sarita Mexican Restaurant, Donuts 2 Go, Pizza Hut Kingman, Dora's Beale Street Deli, Subway Kingman, Lombardo's Kingman, Wendy's Kingman, JB's Restaurant Kingman, Porky's Pit BBQ Kingman, Calico's, Scotty's Broasted Chicken and Ribs Kingman, Denny's Kingman, Golden Corral Kingman, Chili's Kingman and Arby's Kingman.
Thank you.
Ralph D. McKie, President
Vietnam Veterans of America,
Mohave County Chapter 975