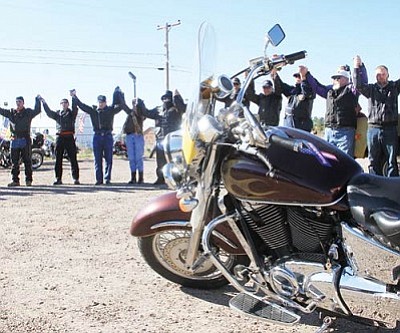 Originally Published: November 28, 2011 6 a.m.
The Patriot Guard Riders escorted Jason Salverson of the U.S. Army to VFW Post 10386 Saturday for a luncheon to celebrate his return from Afghanistan. Salverson ended his one-year tour in October, coming home with a Purple Heart after being wounded. The PGR sent him off a year ago and were happy to escort him upon his return home. Loren Larson and Scott Henry were ride captains. His mother, Alana Cobb, stepfather Terry Cobb, 92-year-old great-grandmother Margaret Hinman and nephew Christopher Wills accompanied him Saturday. The PGR are seeking more members.
For more information, visit their website at www.patriotguard.org or call Larson at 928-530-1992.