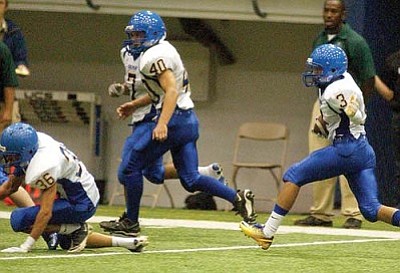 Originally Published: October 2, 2011 6:01 a.m.
FLAGSTAFF - According to the National Federation of State High School Associations, only 12 players have ever recorded six or more interceptions in a game.
After Kingman High's 48-21 win over Flagstaff High in the Walkup Skydome Friday night, you can add Gabe Lumas to that list.
Lumas picked off Eagles quarterbacks Rhyan Robertson and Kyle Kortsen seven times and got the Bulldogs on the board first when he returned Robertson's pass 38 yards for a quick 7-0 lead.
"It's unbelievable, it feels unreal," Lumas said. "I'm just thanking God right now."
Lumas had already tied the school record of four interceptions set by Jason Edwards in 1993 at halftime and broke it with 8:27 left in the third quarter.
"I don't know why they kept throwing to him," KHS coach Rob York said. "We kept telling (cornerback Skyler) Burgess that they are going to start coming after him, but they kept throwing to (Lumas) and Gabe was in the right spots, right where he was supposed to be in coverages, and they threw it right to him."
Although it's still too early to know for sure if Lumas's seven interceptions is any kind of state record, there have been five players since 2001 who had five interceptions in a game. The national record, according to the NFSHA, is 18, set in 1928.
Records aside, Lumas's accomplishment was just icing on the cake for the Bulldogs, who picked up their first win of the year after a heart-breaking loss last week to Bullhead City Mohave.