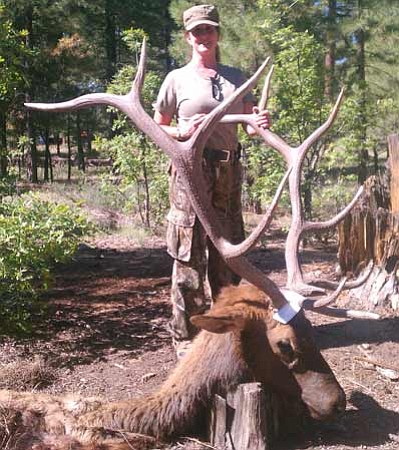 Originally Published: October 5, 2011 6:01 a.m.
One of the advantages of Arizona's draw system for residents is that a sportsman or woman always has the chance to draw any of the coveted big game tags that are offered, regardless of the amount of bonus points that the person has.
Case in point is Golden Valley resident Leetha Schlosser.
This year Leetha's husband, Art, put her in for an early rifle bull tag in Unit 5B North.
There were just 24 tags offered for the early bull hunt, which is one of the most sought after big game tags in Arizona.
Schlosser had just one bonus point and her application point for this year's draw, but her number came up.
To make it even better, Art drew an archery bull tag in the same unit, and his hunt would be held during the two week period immediately preceding Leetha's hunt.
Schlosser said the archery hunt turned out to be "two weeks of scouting for Leetha's hunt."
With five days of rain, then a full moon, and finally extremely hot conditions on Art's hunt, the opportunity to take a bull just never materialized.
But things changes rapidly during Leetha's hunt.
The Schlosser's put in a lot of time hiking after bugling bulls, and passed on many after seeing they were mostly young, immature males.
But finally on Day 6 of her seven day hunt, it all came together.
Art was able to call in a mature 6 X 6 bull to within 37 yards, and the first time bull elk hunter sealed the deal with a single shot from her 308 rifle.
The bull staggered at the shot, ran less than 50 yards and expired.
The bull had a lot of mass on his rack and except for a broken off front point, it was an awesome trophy!
Art said that the folks at the taxidermy shop they took it to in Flagstaff estimated that the bull was in the 340-350 inch class.
It was a great bull for the lady hunter to take on her first bull elk hunt in Arizona and she is rightfully proud of her accomplishment.