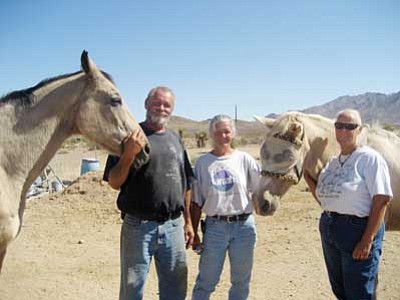 Originally Published: October 6, 2011 6 a.m.
Bill and Cyndi Jackson have experienced the neglect first-hand. They own CbarJ HorseHaven Rescue in Dolan Springs. The couple has been taking in neglected, abused and unwanted horses and adopting them out since 2007. They have since rescued 50 horses and are currently taking care of 15 horses.
The first two horses the couple rescued were Dancer and Goldie. A neighbor offered the two emaciated horses to them in exchange for helping clean up her property. The two horses were housed together in a 20 by 20 foot stall. It took the Jacksons three months to clean up the property.
Most of the horses that arrive at the rescue are emaciated and their stories will break your heart.
Precious, a little Arabian mare who likes to follow people around like a dog, came in with one of the worst emaciation ratings available from the Arizona Department of Agriculture.
Bill said he wasn't sure if they would be able to bring her back around, but in the few months she has been at CbarJ she has filled out, although her ribs still show slightly.
Peaches, another mare, came to the rescue after her owner was found feeding her nothing but peanut butter sandwiches.
Tasha, a 4-year-old grey Arabian with red flecks, also came to the rescue starving.
One of the worst stories belongs to Hoss. The Jacksons and their neighbors found Hoss wandering in the desert near their home, starving, dehydrated and with one bad eye.
They believe someone purposely hit him in the eye. His hooves had also over grown his shoes and were almost bell shaped. He's now blind in his left eye, but much happier and no longer starving.
"Some people who don't have the money to keep a horse any longer, just turn them out in to the desert to fend for themselves," Bill said. "You can't do that with a domesticated horse. They don't know how to find water and there is very little water around here."
Hoss isn't the only horse to come to the rescue with a history of abuse.
Honey and Elvis were seized by the Arizona Department of Agriculture after the department received a report of a man punching Elvis in the mouth. Both horses were emaciated. Elvis is still skittish about people approaching his nose.
When the Jacksons unloaded Missy Kateland from the trailer all she could do was walk around in circles, Bill said. She had been placed in a corral with a bunch of draft horses that had trampled her and ate all the food.
At CbarJ, she would walk in circles across her paddock to get to her food. Bill said with tears in his eyes. Unfortunately, Missey Kateland did not survive. She died eight months after arriving at CbarJ.
Other horses come to the rescue overweight. Their owners, whether out of love or lack of education have over fed them to the point of being obese.
Barren's Silver Legend, also known as Wee-man, is a 17 year-old miniature stallion that came to the rescue 500 pounds overweight.
Dakota, a quarter horse, came to the rescue from Bagdad, Ariz. She was over fed on poor-quality hay and developed a big rounded hay-belly. She was also ridden too hard too young and developed a swayback.
Toby is another overweight horse the Jacksons have put on a diet.
"Being overweight can be just as bad or worse than being underweight," Bill said. The extra weight stresses the bones, joints and organs of the horse and can cause a lot of problems later in life.
Other horses are too old or have medical problems that their owners can no longer care for. Poncho was hit by a car and is nearly blind. He has nerve damage and when a saddle is placed on his back, he falls over.
Twister has metabolic syndrome and requires expensive supplements.
Mr. D., a big tawny colored horse with a dark mane, tail and legs, is more than 40 years old. When he came to the rescue his feet were so infected that he could only tiptoe around the place, Bill said. The Jacksons had to soak his feet in bleach water for months.
And then there's Fancy, who was diagnosed with narcolepsy and was about to be sold at auction, probably to a meat packer, Bill said. Selling and butchering horses for human consumption or dog food is no longer permitted in the U.S. However, that doesn't stop people from buying them at auction and then trucking them across the border into Mexico, where you can get more than $2 a pound for a live horse. Horses can weigh several hundred pounds.
The Jacksons have even adopted a hero. Cheyenne, a golden colored Bureau of Land Management mustang, was originally from California. In 2001, a series of wildfires killed hundreds of wild horses near Los Angeles. The Jacksons have been told Cheyenne escaped the fires, then turned around, went back into the fire and led 400 wild horses out.
The Jacksons love the work they do bringing these abused and neglected horses back to life.
"No one should be allowed to do this to a horse," Bill said. "If someone can't take care of their horses, please bring them to us. We won't ask questions. We just want to make sure these animals are taken care of."
"I had a calling from God. I know people cringe when I say that but it's true," Cyndi said. "Nobody else cares what happens to these horses. I was put here in Dolan Springs to take care of them."
"There are people out there that call us horse hoarders and worse, but look around. We're not the Taj Mahal, we're nothing fancy, but it's clean and they're taken care of," Bill said.
But even the Jacksons are starting to struggle. The couple is retired and has some help from friends, like Claudette Jeffries, who is the CbarJ's secretary and helps train some of the horses.
But the horses eat about 80 bags of feed each month, each bag weighs about 80 pounds. That adds up to more than a $1,000 a month, which doesn't include vet bills, first-aid supplies and other necessities. The rescue gets the occasional donation of feed or money, but it doesn't last long, Bill said. The rescue is incorporated in the state and is working on getting its non-profit status from the Internal Revenue Service.
The Jacksons have spent almost all of their money and their savings to rescue horses. They gave up a nice home, cars, a boat and other nice things in order to help out a few starving and neglected animals.
"We need a lot of help. Not for us, but for these horses," Bill said
The Jacksons are more than willing to adopt the horses out, but the adoption fees don't cover the cost of caring for the animals. Also many of the horses are 14 or more years old, have health problems and can't be ridden, Bill said.
"Everyone wants a horse that they can ride off into the sunset with, but you can't do that with many of the horses we have," he said. "Very few people want a horse you can't ride."
The CbarJ is holding a fundraiser Saturday at the Castle Rock Bar and Grill on U.S. 93.
The rescue is located at 15660 North Garnet Road in Dolan Springs and can be reached at (928) 377-6731 or (928) 897-0116.