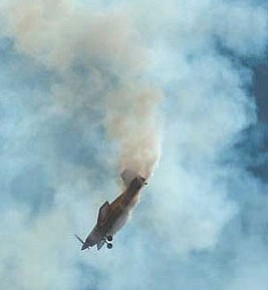 Originally Published: October 7, 2011 6:01 a.m.
KINGMAN - After a 4-year hiatus, the Kingman Air and Auto Show will return to Kingman skies this weekend.
Gates open at 9 a.m. Saturday and Sunday for 2 days of hot rods and aerial acrobatics at the Kingman Airport, with the air show starting at 9:45 a.m. Tickets are $12 a person and $2 for parking.
The show is a scaled back version from years past because of a lack of funds and an uncertainty over whether the show would even be held. The Kingman Air Show is a non-profit organization that is supported entirely by volunteers.
Air show President Andrew Raynor said the 4-year hiatus, along with rumors of whether or not this year's event would be held, made it difficult to attract sponsors.
Raynor said the billed costs for the 2007 show exceeded the estimated costs by tens of thousands of dollars. This year the organization raised approximately $3,000 at a summer golf tournament to help cover costs.
"We have scrutinized and trimmed the budget to what the show really needs," he said. "It's been a long, hard road, but we have take care of the issues at hand and have made sure that the show is back on track."
That doesn't mean any of the fun has been cut out of the budget. More than 30 aircraft are scheduled to perform and be on display for up-close viewings. Another 10 planes will be giving rides. The rides cost between $100 and $230 depending on the plane.
For those interested in barnstormers, this year's featured planes will include a CJ-6, a Stearman, a PT-17, T-6s, T-28s, T-34s, a C-17, a P-51, an F-16, an FW-190 and a spitfire.
The show will also feature aerial acrobatics from Brad "Tailwind" Ransom, the Desert Rats Warbird Demonstration Team, Aerial Antics, Chuck Coleman and more.
A host of classic and muscle cars will also be displayed.
This year's sponsors are Kingman Regional Medical Center, Bits-N-Bytes Computer Center, Mertin's Heavy Equipment, Composite Solutions and Performance Specialists.
For more information, visit www.KingmanAirShow.com or call (928) 377-7260.