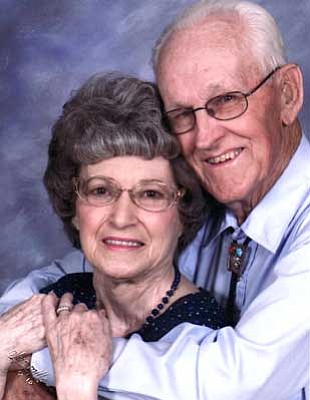 Originally Published: October 7, 2011 6:01 a.m.
They are finally together and we know they're happy! Our mom, Joyce Hendricks, joined our dad, Wayne, Wednesday, July 27, 2011. This took longer to submit than we intended; forgive us. They had 60 years together; how wonderful! All who knew Mom knows she suffered so much, but did have a life of fulfillment, from her deep faith.
Joyce loved to tease, loved to give and loved to hug! We are proud of our mother's perseverance and example. We are blessed to have had her and our dad as parents. They had me, Brenda, and my brother Bryan, eight grandchildren and seven great-grandchildren. Our parents had many friends, who became like family to us. Their love and respect for each other was so evident, and it took dedication that is rare anymore.
Mom was born Aug. 4, 1932, to Isaac Joshua Browning and Gertie Page in Tyler, Mo. She liked telling us Tyler had a grocery store, but no barbershop! She only had a sister, Mary Evelyn, who passed away some years ago. Their dad, Isaac, died at age 40; how sad for two young girls. Mom was wonderful in school and graduated at 16, but college was not an option; they didn't have any money for that. But she ended up secretary for the San Diego City Attorney; you go Mom! We miss you and love you; thanks for being our mother ... hugs and kisses forever.