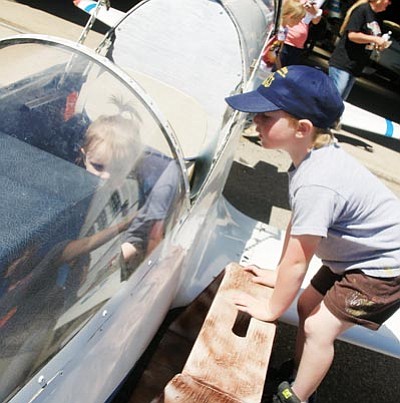 Originally Published: October 12, 2011 6:01 a.m.
KINGMAN - Kids who got a taste of aerial acrobatics at last weekend's air show will get the chance to be Top Guns themselves on Saturday.
And thanks to the generosity of half a dozen local pilots, the rides are at no cost, as they've always been for the Young Eagles Flight Rally for the last 10 years.
The event, part of a national effort by the Experimental Aircraft Association to get kids interested in avionics and piloting, will be held from 8 a.m. to 2 p.m. Saturday at the Kingman Airport.
David Amspoker, spokesman for the local EAA chapter, said he expects at least 200 kids between the ages of 8 and 17 at the event. He said 126 kids got the chance to fly at the last rally in April, while around 50 had to be turned away later in the day as the winds picked up. The good news for Saturday is that the forecast shows clear, sunny skies and low to non-existent winds.
"We want their first experience to be pleasant," Amspoker said.
Parents are encouraged to come with the kids to not only get some pictures, but to fill out a required permission slip.
Pilots will lead the kids through a pre-flight checklist to make sure the plane is air worthy and safe to fly before taking to the sky to get a bird's eye view of Kingman. The rides last around 20 minutes.
"We can spot pretty much all the schools in Kingman from the air and can fly over their house if it's in the flight pattern," Amspoker said.
The idea behind the event is for pilots to share their love of flying in hopes that they'll pass the torch on to the next generation. Amspoker said he hopes one of Saturday's pilots will include a 17-year-old who has his license and instrument rating certification. Seeing a pilot near their age might compel even more kids to take up flying as a hobby, he said.
Those who fly will also have their names entered into the "World's Largest Logbook," which is on display at the Experimental Aircraft Association Museum in Oshkosh, Wis.
For more information, call (928) 692-8026 or visit www.eaa765.org.