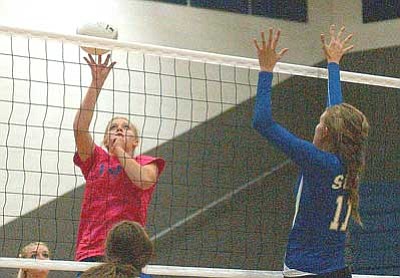 Originally Published: October 13, 2011 6:01 a.m.
KINGMAN - Despite its seven game winning streak, the Kingman High volleyball team is still a very young and inexperienced team.
That inexperience was on display Tuesday night in a 3-0 (25-9, 25-19, 25-20) loss to Phoenix Sandra Day O'Connor.
"They seem like a very experienced team and for us being such a young team, I think we did pretty good. We have a lot to work on," senior Jill Collins said. "We definitely need to work on our blocking and reading the ball and where the hitters are going."
Collins ended the night with five kills while Natalie Casson had six kills. Rachael Arave added three blocks and six block kills, while Taylor Reed had five digs and Skye Nelson had three digs.
"We didn't know what to expect from Sandra Day," KHS coach Traci Rosenbach said. "Their record doesn't look good, but the teams they play are the best in our division, so it was hard to tell from that."
After dropping the first game 25-9, the Lady Bulldogs bounced back during the second game (25-19) and maintained a lead for a majority of the third game including a six-point lead (18-12) before Sandra O'Connor mounted a comeback to tie it at 30 before going on to a 25-20 win to secure the match victory.
"By the third game they were starting to read their offense a little better, but it was too little too late," Rosenbach said. "It took them two games to figure it out and it shouldn't (have)."
KHS (7-7) saw its seven game winning streak snapped Monday with a 3-0 (25-23, 25-13, 25-18) to Flagstaff Monday.
"We knew that Flagstaff was going to be some of our best competition," Rosenbach said. "I think when you play a team to that higher caliber, like Flagstaff and Sandra Day, it really shows our inexperience and they kind of picked us apart."
Casson led the Lady Bulldogs with 10 kills and six digs while Collins had eight kills and Taylor Reed added six kills. Alison Owen had eight digs and Gabby Huffer had six digs. Alison Owen had three ace serves.
The game was originally scheduled for Sept. 22, but was pushed to a later date due to homecoming festivities.