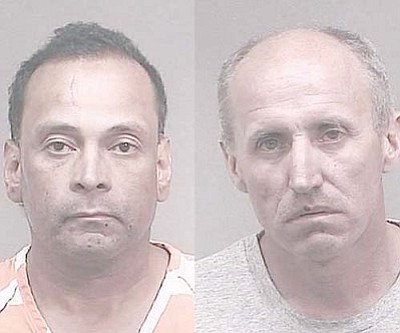 Originally Published: October 18, 2011 5:59 a.m.
KINGMAN - Two men were arrested last week and charged with destroying parts of a railroad track and selling it for scrap.
The theft posed no danger to trains since it occurred on a portion of track that was out of service, according to the Mohave County Sheriff's Office.
Fermin Paul Candelaria, 47, and Chris Mendenhall, 46, both of Kingman, were arrested last Tuesday after deputies with the Sheriff's Office responded to a report of suspicious activity in the area of Coconino and Shinarump Road around 10 a.m.
The caller told 911 dispatchers that they saw two men using a torch to remove parts of the railroad track. The caller gave deputies a description of the two vehicles the men were driving.
The Sheriff's Office said responding deputies stopped a man on a green quad that matched the caller's description. That man was identified as Candelaria, who was taken into custody on a felony probation violation warrant and another misdemeanor warrant.
Candelaria allegedly admitted to deputies that he was selling scrap to a local business. Deputies contacted the business, which was able to provide information on another man with Candelaria. That man, later identified as Mendenhall, reportedly owns a blue pickup truck that matched the description of the second vehicle given by the caller.
An Arizona law passed in 2007 requires scrap buyers and recyclers to get photo identification, vehicle information and fingerprints for sales over $25. Anything over $300 is required to be paid by check, and the check has to be mailed to the person's physical address.
Both men reportedly admitted to stealing parts of the track to sell for scrap. They were booked into the Mohave County Jail on felony charges of burglary, theft, trafficking in stolen property, and criminal damage.