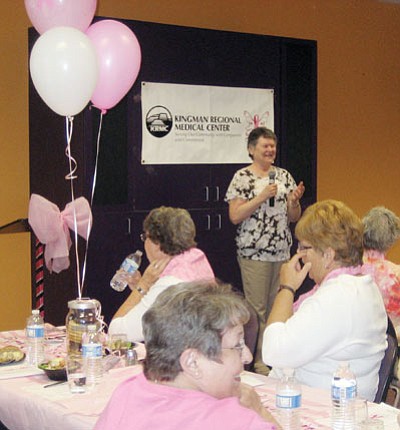 Originally Published: October 23, 2011 6:01 a.m.
KINGMAN - Surviving breast cancer requires great strength, courage, laughter, support and hope, according to several survivors who spoke at Kingman Regional Medical Center's 2nd annual Breast Cancer Survivor luncheon Thursday.
"I think we can all remember the day we were told it was cancer," said Phyllis Anderson, an outreach coordinator for the Well-Woman Healthcheck Program in Mohave County and a two-time cancer survivor.
The program works with KRMC's Catch It Early Program to provide mammograms to uninsured or underinsured women in the community and helps support them through the cancer care process, Anderson said.
"It is so important to get mammograms early and often. I remember asking God and my doctor, 'Why me?' I didn't have a history of it my family," she said. "My doctor told me, "You're a woman and you're over 50.'"
Any woman regardless of family history is at risk for the disease, she said.
Mary Jo Mills, a one-year survivor of a rare form of breast cancer, said she was lucky because the cancer took a visible form and because the Well-Woman program was there to help her. The cancer did not show up on a regular mammography. It wasn't until the doctors put her through an MRI that they could be certain of the size and location of the cancer.
"I wrestled with the idea of chemotherapy. I didn't want it," Mills said. At first her doctor wasn't sure that she would be strong enough to go through with the therapy but a second opinion from a doctor in California confirmed that she would have to go through chemo in order to get well.
"All I could think was, 'This is not good. This is bad,'" she said. Her mother had passed away from cancer a few years earlier and now she was on the other side of the fence. But she was determined to make her way through it, Mills said.
After her first treatment, she said she felt fine and was up and around and on ladders and doing housework.
"I thought 'Well this isn't so bad' - and then my hair fell out," Mills said.
At first she cut her hair short and wore bandanas. And then one day she gave up.
"I grabbed a pair of clippers and buzz, buzz, I shaved it all off," she said. "I've always been something of a tomboy and so my hair never really meant that much to me. I've been sporting a G.I. Jane haircut ever since."
Kathy Younghusband, an 11-year survivor, said she found her cancer one Saturday afternoon after taking a shower.
"Not knowing was the worst part of the whole thing," she said. She had to wait until Monday to call her doctor and make an appointment and then wait until the results came back. It was almost a relief to know because then you could start on a plan of action, Younghusband said.
The second hardest thing was telling family, friends and her employer, she said.
Younghusband had just gotten her dream job as an library assistant at the school that both she and her husband had attended as children. What would she tell the students? Would she be able to work through treatment? Luckily the job was a part-time position. She was able to work and be treated at the same time.
Telling her grandchildren was extremely difficult, she said.
"My one grandson looked at me and said 'How could this be, Grandma? You eat well, you exercise," Younghusband said. "I was thinking the same thing."
One of her greatest worries turned into one of her greatest sources of joy during her treatment, she said. She was worried about what her students might think when her hair fell out and spoke with her hairdresser about the issue. The hairdresser was able to put her in touch with a company that creates wigs for cancer survivors.
She made the day into a fun trip trying on wigs for her and her grandchildren. She ended up getting a few different wigs, including one curly one that looked like something a 1980s rock star would wear.
"I never wore that one out in public but my grandkids and I got a real kick out of it at home," Younghusband said. "I tried to keep things as normal as possible."
Having her hair fall out was both distressing and humorous at the same time, she said. Little wisps of hair would pop up and as soon as she touched them they would fall out. Her hair was everywhere, on the floor, on the furniture.
One day she was in the bathroom brushing out some of the wisps, when her husband knocked on the door and asked what she was doing.
"I told him 'I'm pulling my hair out,'" she said with a chuckle.
When her hair finally grew back, Younghusband tried to cover up the short stubby strands.
"Ah, just spike it like ours, Grandma," one of her grandson's said. So she did.
She said she got a lot of support from family, friends and even strangers and took part in a number of breast cancer programs such as "Look Good, Feel Better." The program teams those going through cancer treatment with makeup and hair artists to show them how to arrange their wigs and makeup.
"Early detection is so important," Younghusband said. "Enjoy the days that you have. Don't go it alone."
"I did everything they tell you not to do," said 16-year survivor Fay Pope. "I ignored the signs for three months."
She finally went to see a doctor on a Thursday. The following Tuesday she was having a mastectomy.
Last year, Pope found signs in her other breast. Once again she waited, this time her husband insisted that she have it checked out. He went to every appointment, screening and test with her, just to make sure, she said. The team at the KRMC Cancer Center and Imaging Center were wonderful. In the end, she had to have another mastectomy. "Humor is the biggest part of your treatment. You have to laugh," she said.
Dr. Kathleen Naegele, a new oncologist at KRMC's Cancer Center, also spoke about her experience as a friend of a woman who did not survive breast cancer and how it encouraged her to finish medical school.
"Every day is a new day," she said, with tears in her eyes. "We already have a cure for cancer. Every one of you is proof of that."
Every one of them had the courage and strength to fight their fear and survive, Naegele said. They also had the courage to face the memory of that fear and attend the luncheon. She encouraged them to share their stories with other women and stress the importance of early detection.
"Don't keep it in your heart," she said. "Tell someone."