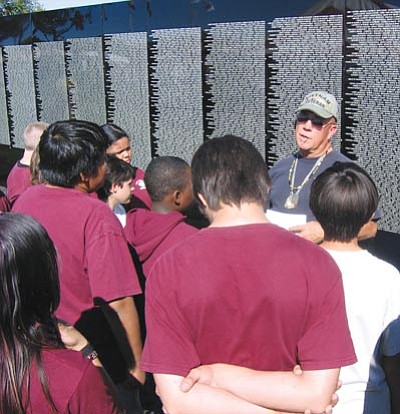 Originally Published: October 23, 2011 6:01 a.m.
KINGMAN - On one end of the Moving Wall is the name of John H. Anderson Jr., on the other end is the name of Jessie C. Alba, and in between are the names of 58,265 members of America's military who died during the 20-year conflict known as the Vietnam War.
As you walk up to the half-sized replica of Washington D.C.'s Vietnam Veterans Memorial that resides in Firefighter's Park, 2001 Detroit Ave., through Monday, the jet black walls look as if unintelligible blocks of white text have been superimposed on their faces. Once you come within two or three feet, each engraved name - each representing a life lost - comes into focus, and the gravity of the situation that put these names here becomes inescapable.
Dino Graber joined the military just as the Korean War ended and the Vietnam War started. He was never sent overseas, but visiting the Moving Wall still strikes a nerve.
"It's tough to be here," Graber said, visibly choked up. "My heart isn't made for this stuff."
It's a shame to live in a world where young men are sent to places they've never been to fight, kill and die at the hands of people they've never met, he said.
"For six months, all you do is learn how to kill somebody," Graber said, speaking of his military training.
War will forever be unavoidable. Graber said it's just a good thing they are not normally staged on American soil - it's the military that Americans have to thank for that.
Graber's companion, Edith Graber, clutches a rubbing of the name Antonio Ruggeri, a nephew she never had the chance to meet, as he died during the war.
She had one word to describe the Moving Wall being in Kingman: "Respect."
Edith's brother died in Italy during World War II and her son was stationed in the Philippines prior to the Vietnam War, so she is no stranger to what war does to the families who remain in the states as their loved ones head off to fight in foreign lands.
"You do a lot of letter writing," she said.
It's different for the men overseas.
Don Hall, a Vietnam veteran who served in the Navy, said the wall brings back memories of the camaraderie present throughout all branches of the military.
"We're a tight-knit outfit," Hall said. "It never leaves you."
Hall was 19 when he joined the Navy, and 22 of the men who went over with him to Vietnam didn't make it back - their names inscribed on the wall.
"It's kind of sad," Hall said. "But what are you going to do?"
Coming home was a different matter.
When Hall returned from the war, he couldn't wear his uniform outside of his home. Veterans often faced the brunt of misplaced anti-war sentiment, which sprung up in the 1960s and spread across the nation.
Hall is a WWII baby. His grandfather served in the World War I, his father served in WWII and he served in Vietnam. Support of military personnel saturates many communities across the country, a stark contrast to what many Vietnam veterans faced when they came home. The amount of support for veterans nowadays has a lot to do with prior vets taking it upon themselves to never let what happened then to happen now, Hall said.
As for the men and women serving overseas right now, Hall said their commitment fills him with pride.
"Some of these guys are going back for their fourth and fifth tours," Hall said. "I told one guy, 'You've done your duty, don't push your luck.' I'm just so proud of them."
As the day wore on and people visited the memorial, students from nearby Kingman Middle School walked over in small groups.
Ralph McKie, president of the Vietnam Veterans of America Mohave County Chapter No. 975, met with each one and gave a brief anecdote regarding his experiences in Vietnam.
In March of 1969, six of McKie's friends were killed when a mortar struck an operations hut where he was stationed. He pointed out the engraved names of those men to a group of students.
McKie told them how he took his dead friends' items to the supply room, as he was charged with separating their personal belongings from their Army-issued items.
He sifted through pictures of moms and dads and letters from brothers and sisters, knowing these family members would never see these men again.
"I have dreams and haunted memories of what happened - even 40 years later," McKie said.
The war changed all veterans, he said.
"I didn't kill one person when I was in Vietnam," McKie said. "We just went over and did what our country wanted us to do."
Local memorial
Maj. John Oliver Arnn served in the Army and died December 26, 1965 in Vietnam. He was 42 years old and lived in Kingman.
Capt. Derrill Lee Burnside served in the Army and died May 3, 1971 in Vietnam. He was 31 and lived in Kingman as well.
McKie said the VVA's next project is a memorial in town for Vietnam veterans. It would be paired with a Korean War memorial. They would line the north and south sides of a walkway, with the Vietnam veteran's memorial mounted to the south side and the Korean War memorial mounted to the north.
As for the Vietnam veterans' memorial, it would consist of three slabs. One would show a map of Vietnam, one would list several facts and one would bear the names of Arnn and Burnside.
McKie is pushing for the project to be close to completion - if not complete - by Christmas.
The Moving Wall is on display through Monday at Fireman's Memorial Park, 2201 Detroit Ave.
"There are no noble wars, just noble warriors," Mckie said during opening ceremonies - a quote well known by many veterans.