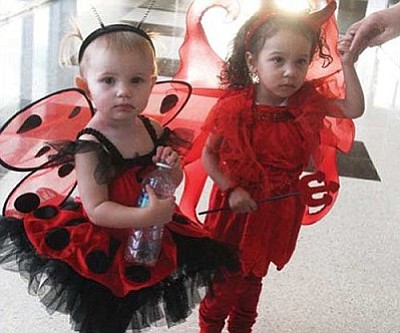 Originally Published: October 24, 2011 6:01 a.m.
Cruizers hosting 9th bash
KINGMAN - The 9th Annual Cruizers Car Club Halloween Bash is from 6-9 p.m. Oct. 31 in downtown Kingman. The event is co-sponsored by the Boys and Girls Club, Kingman Route 66 Association and Precision Productions.
Cars enter on Spring and First Street, and eight to 10 bags of candy are required. Trick or Treaters will line up at Oak and First Street, and food and beverage vendors will be on Oak Street.
Pets, drugs and alcohol are not permitted. All children must be accompanied by an adult.
B&G Club plans extravaganza
KINGMAN - The Boys and Girls Club of Kingman is inviting businesses to participate in the Halloween Extravaganza by having a game or candy booth at the event. Call (928) 718-0033 for more information.
The event is from 6-8 p.m. Oct. 31 at the Boys & Girls Club, 301 N. 1st St. Booth space is free.
Ricca hosting Halloween party
KINGMAN - Trunk of Treat, which will include a costume contest and prizes, is from 4-8 p.m. Oct. 31 at Century 21-Barbara Ricca Realty, 2202 Hualapai Mountain Road. The public is invited.
Dentist offers to buy candy
KINGMAN - Mangelsdorf Family Dentistry will hold a Halloween Candy Buy-Back from 4-7 p.m. Nov. 1 at 2249 Hualapai Mountain Road, Suite A.
Children will be paid a dollar a pound for Halloween candy, with a five-pound limit, and will also receive a goody bag with toothbrushes and restaurant coupons. The purchased candy will be sent to U.S. troops stationed overseas.
An adult must accompany children. Call 718-2136 for more information or to volunteer to help.