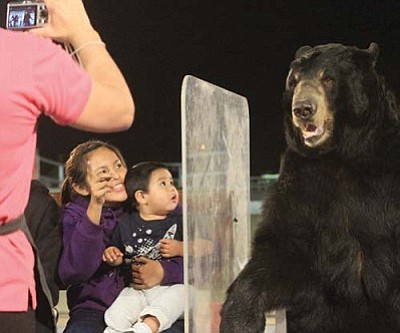 Originally Published: October 24, 2011 6:01 a.m.
I couldn't believe my eyes when I saw the photo on the front page (Oct. 17 KDM) of a woman with a child sitting on one side of a barrier and a bear on the other. Does she think that a barrier of that size would hold a bear? These are wild animals and especially animals in circuses could be very dangerous as they are coerced into doing tricks and what have you that isn't normal for them. Eventually animals get tired of being treated unkind and may become aggressive from enduring that kind of treatment. It was stated that the circus was cited for neglect and safety issues but yet they are allowed to go on.
These animals are in small cages and elephants are chained up and this is all of their life. They don't know what it is to be free and when they are no longer of use to the circus they might end up in a sanctuary or be euthanized. I know as I am a volunteer at Keepers of the Wild where over l00 animals call home. These animals were rescued by Jonathon and Tina because of abuse, abandonment or of no longer use in the entertainment field. Of course they can't be introduced back in the wild, they would not survive. Here they have freedom, love and kindness.
Marlene Tidwell
Golden Valley