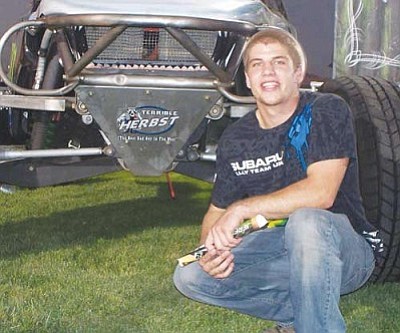 Originally Published: October 27, 2011 6 a.m.
KINGMAN - The family of a 20-year-old man left paralyzed by a motorcycle accident 10 days ago has established a fund at a local bank to accept donations for his medical care.
Gregory Lee Cook was expected to be moved today from the intensive care unit at Sunrise Medical Center to Craig Rehab Center in Denver, Colo., which specializes in spinal cord injuries.
Bill Cook, the man's grandfather, said the accident left Cook paralyzed from the waist down.
"The doctors told him it will take a miracle for him to walk again," he said.
Cook was riding his motorcycle in the 300 block of Anson Smith Road around 8:50 p.m. when his 2004 Honda motorcycle missed a curve in the road and crashed into a fence and a large pile of rocks.
Cook was thrown about 50 feet from his bike, according to rescuers. He was reportedly wearing a helmet at the time.
Police said alcohol was not a factor in the accident but that speed may have played a role.
Cook is employed with American Woodmark. Donations will be accepted for Cook at Wells Fargo under the account number 9247259824.