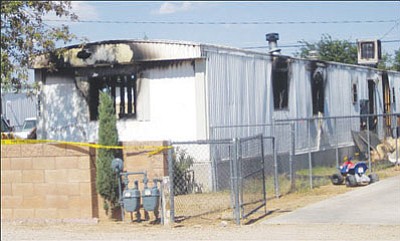 Originally Published: October 30, 2011 6:01 a.m.
KINGMAN - A man who was arrested three years ago in the shooting death of his father has been found incompetent to stand trial.
Shawn Guerrero, 29, has been in the Mohave County Jail since Sept. 2008 as he awaited trial in the death of his father, 59-year-old John Guerrero. The elder Guerrero was discovered dead inside his home in the 3000 block of Packard Avenue Sept. 27, 2008, from gunshot wounds to his neck and back. The house was set on fire after the shooting. The family's dog, Able, died in the fire.
Guerrero was considered an immediate suspect in the case and was arrested by Tempe police the next day after an attempt to locate warrant for his arrest was issued. Neighbors reportedly saw Guerrero arrive shortly before the fire started and leave immediately after.
The fire took place five months after the younger Guerrero was arrested on disorderly conduct charges for shooting out a television set in front of his mother.
Guerrero had twice before undergone what is referred to as a Rule 11, or mental health, evaluation. Different doctors offered different opinions but most have agreed that Guerrero suffers from a form of psychosis that would leave him unable to participate in his own defense.
Guerrero apparently offers rambling, incoherent thoughts when responding to questions and gives conflicting responses as to whether he understands that he is being charged with murder or that his father is even dead.
Guerrero's attorney, Denise Dees, said she is trying to get Guerrero into a treatment program that would help restore him to a mental state that would make a trial possible.