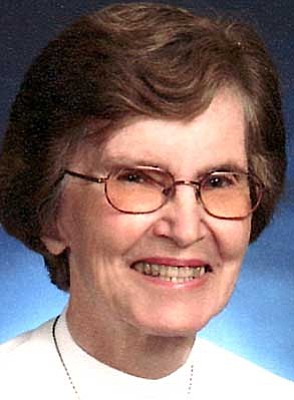 Originally Published: September 2, 2011 6:01 a.m.
Mary K. Kern, born Mary K. Eggleston on Sept. 11, 1924, in Hamilton, Ohio, passed away on Tuesday, Aug. 30, 2011, in Kingman. She was the daughter of Nettie Bernhardt and Aaron Eggleston, and is survived by her beloved husband of 67 years, Clifford H. Kern; three children, Donna K. Bleyle of Mesa, Ariz., Thomas M. Kern of Kingman and Dean A. Kern of Alexandria, Va.; four grandchildren, Thomas Kern, Scott Kern, Lori Gregory and Kim Fuqua; and sister-in-law, Helen Eggleston of Hamilton.
Mary Kern was a resident of Kingman since 1965, and made many contributions to the community. She was a founding member of the Kingman Cancer Care Society, a member of the Morning Glories at the University of Arizona Kingman Extension, and served at the Mohave County Regional Hospital Auxiliary for over 20 years. She was awarded Kingman Humanitarian of the Year in 2006.
Memorial services will be held at 1 p.m. Saturday, Sept. 3, at Kingman Presbyterian Church.
Memorial may be sent to Kingman Presbyterian Church, 2425 Detroit Ave., Kingman, AZ 86401-4224 or Kingman Cancer Care, P.O. Box 3014, Kingman, AZ 86402-3014.