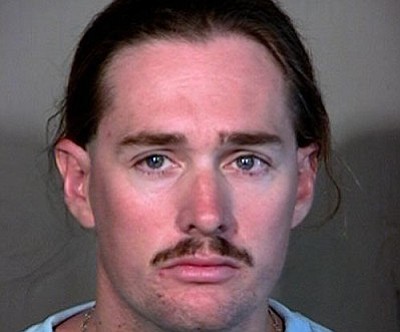 Originally Published: September 5, 2011 6:01 a.m.
KINGMAN - A man on an apparent drunken rampage was shot and killed in the Butler area of North Kingman Sunday morning by a deputy with the Mohave County Sheriff's Office.
William Patrick Bonnee, 30, was standing in the street in the 3100 block of Thompson, wielding a five-foot metal pipe, when the deputy arrived at approximately 12:25 a.m. in response to a call regarding a violent home invasion.
According to a news release from the Kingman Police Department, which is handling the investigation, Bonnee "refused multiple commands by the deputy to drop the weapon and began to aggressively charge at the deputy. The deputy drew his weapon and fired, shooting Bonnee multiple times, killing him."
Bonnee, a Kingman resident, has "an extensive criminal history and has multiple arrests by local law enforcement," according to the KPD. KPD also reports that it's likely Bonnee was "heavily intoxicated" when he died.
Neither the MCSO nor the KPD would identify the deputy.
Bonnee's first brush with the law in the hours prior to his death occurred Saturday night at a different residence, with the MCSO responding for a noise complaint. That was followed by Bonnee's alleged home invasion on Thompson that terrorized a woman and her 15-year-old son. It started with Bonnee beating a dog in the back yard of the residence with a metal pipe, according to a neighbor. After that, it's alleged that Bonnee began beating on a side door of the home.
The woman who opened the door was confronted by Bonnee and called her son for help. He grabbed a broom handle and began to fend off Bonnee, who still had the pipe as he barged into the home. While the son was distracting Bonnee, eventually luring him through the house and out the front door while under attack, the mother called 911.
The boy was struck several times by Bonnee before getting away, leaving the man in the street where he had the fatal encounter with the deputy, a 25-year-old who has been with the MCSO for over three years and who was on uniformed patrol at the time of the call.
As of Sunday afternoon, no motive for the home invasion and attack has been established. The residents of the home where the attack occurred do not know Bonnee and had never seen him before, according to KPD. It appears the attack was random.
The boy was treated at Kingman Regional Medical Center for minor injuries. The mother was not injured in the attack.
The Mohave County Medical Examiners Office is assisting Kingman Police detectives in the investigation. As is routine, the deputy who shot Bonnee has been placed on administrative leave.