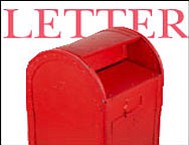 Originally Published: September 5, 2011 6:01 a.m.
Thanks to everyone!
I would like to thank all the wonderful people in our neighborhood who stopped to help my husband, Steve, when he tripped and fell in the street.
He had recently been in the hospital for pneumonia and was still weak. He took our two dogs out for a short walk and on the way back his legs gave out, he lost his balance and fell in the street. Brian and Cindy Cox were in their car coming that way and happened to see him fall. They stopped to help him and held on to our dogs.
Also, two employees from Walgreen's Pharmacy, Mike Kellam and Tricia Sharp, stopped and were also very helpful. Cindy, who happens to work at KRMC, came and knocked on my door as I was not aware of what happened! She knew exactly what to do to get him hooked up on oxygen while I was quickly getting ready to get out there.
Everyone who came by was stopping to see if they could assist in some way. There are truly wonderful people out there who care and are willing to help, and I appreciate everyone's kindness that day. My husband was unable to walk and we decided to call 9-1-1.
Thanks to the quick response from the fire station personnel next to Hualapai School and the ambulance services who transported him to KRMC. Also, a special thanks to the emergency staff for taking care of my husband and letting us know right away that he had broken his hip and would be transferred to a room. Another special thanks to the doctors at KRMC - orthopedic surgeon Dr. Stan Allen, who performed the surgery, and Dr. Mahmood Kahn, Steve's internist - and all the wonderful staff at the hospital who helped him to recover.
Thank you.
Sheila Kofoed
Kingman
On Aug. 9 at 10 a.m., I was headed to Smith's to deposit a check and to pick up a few items. After parking my car, I walked through the parking lot toward the front of Smith's. When I stepped over the speed bump, my toe didn't clear - I tripped and fell on my face on the sidewalk.
A young man was gathering carts and saw me fall; he ran to help me. His name is Cooper and he is a very special young man. My nose and forehead were bleeding. Cooper ran into the store and brought me wet paper towels, which I asked for. Thank you, Cooper, for staying with me and helping me.
A crowd from the parking lot started to form. One gentleman kind of took charge and told someone to get me a chair. Many kind wonderful people gave me Kleenex. Thank you my friends.
By this time the employees and Abdul, the manager, came outside. They called 9-1-1. The firemen and paramedics with the ambulance came. They took me to KRMC emergency room. Thank you to the wonderful firemen and paramedics - we should all be so proud of them.
In the ER, I had a CT scan, X-rays and other tests. I have a broken nose, sprained left wrist, large bump on my forehead and other bruises.
After the hospital visit, I went back to Smith's. Lisa wrote up an accident report and took pictures. She was kind enough to deposit my check for me. Stacy picked up the few items I needed and a young man carried them to the car for me. I don't know his name, but thank you from the bottom of my heart.
What a wonderful town and wonderful people. God bless you all.
Barbara Stoddard
Kingman
Hooray for Home Depot and Walker Service Electric. On Aug. 23, I experienced a complete shutdown of my swamp cooler at 2394 Ames Ave. I spoke with a friend who is very familiar with my unit, who advised that I needed a new pump. He called Home Depot to ascertain if they had the pump in question. I then proceeded to Home Depot to purchase the new pump. I installed it, which worked for a short while, then, voila, everything blew out. The sales clerk had sold me the wrong one.
On Aug. 24, I called Walker Service Electric and Tory, the technician, came to assess the situation and charged me $65 for the service call. He ascertained that the new pump was far too powerful for the unit. I returned the incorrect pump to Home Depot and exchanged it for the correct pump. I asked to speak with a supervisor to explain what had taken place when the incorrect pump was installed. Coral, the supervisor, apologized for the inconvenience and reimbursed me for the service call fee. I then telephoned Walker Service Electric and Tory not only installed the new pump, but also replaced all the other equipment, which had been removed and did not charge me for a second service call. I am one very satisfied customer. Kudos to Home Depot and Walker Service Electric.
Jacqueline Query
Kingman
Mangelsdorf Dentistry recently held their second annual car wash fundraiser for the Kingman Cancer Care Unit. Through their efforts, they were able to donate over $1,000 to our unit. This money all stays locally to help our cancer patients with various needs, mostly transportation.
We are currently supporting 79 patients and have added seven new patients in the last week. So you can see that any help that we can get is greatly appreciated by both the unit and the patients.
A great big thank you to the community for supporting this fundraiser and all the others that benefit our organization.
Remember our Cancer Arts and Crafts Fair is coming up in November and we are always looking for vendors for that project.
Again our heartfelt thanks to the employees at Mangelsdorf Dentistry for all of their hard work. We will see you again next year.
Phyllis Eaton, Secretary
Kingman Cancer Care Unit
I would like to say thank you to hospice (Linda and Bess) for the care that was given to my husband during his illness and to Dr. Mathney for his caring and special loving care. There are not enough words that could express how they made it easy for him to graduate.
He will be missed. And a big thank you to his family (which was all his friends) for their support.
And to his friend, Ken Everett, for being there for him before and after he graduated. Evan had always called him his "bro." And he was.
Also, a big thank you to my extended family at KRMC. A thank you from the heart.
Brenda Williams
Kingman
Margie Cantrell was a fixture in Kingman for many years. She was a wonderful woman and a good friend.
One of her favorite things was when our D-Backs scored enough runs to get free tacos at Taco Bell. She'd proudly announce, "dinner on the D-Backs," and away they'd go.
Thanks to Elizabeth Martin and the staff at the Andy Devine Ave. Taco Bell. She got to watch all her friends have tacos one last time. The restaurant furnished tacos and burritos for her memorial. What a great example of how important it is to keep that small town feeling. We should all frequent Taco Bell as often as possible.
Steve Auld
Kingman
St. Johns United Methodist Church would like to thank the community for their support in helping us raise over $12,000 for the family of 4-year-old Emmalynn Faris, who is fighting a rare form of cancer.
Thank you all for your support and prayers.
Heidi M. Heer, Office Administrator
St. Johns United Methodist Church
Kingman
I have had a moving sale these last two weekends and would just like to let you know I have met the nicest people.
Where have they been keeping themselves? Thanks to all who showed up.
Jane Singer
Kingman