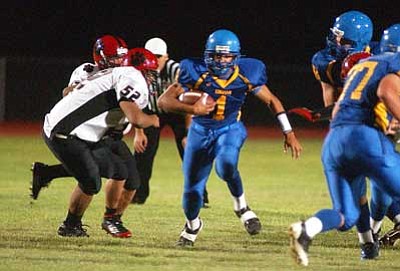 Originally Published: September 11, 2011 6 a.m.
KINGMAN - The number seven was unlucky for Kingman High Friday night.
Seven turnovers by KHS resulted in two touchdowns by Flagstaff Coconino and also contributed to a short field for the Panthers' other scores in a 40-21 loss in the Bulldogs' home opener.
"It's unheard of winning a football game with seven turnovers," senior Willie Valdez said. "Because you gave the team seven more chances to score on you, and on the scoreboard they beat us by three touchdowns."
On the Bulldogs' second offensive possession in the first quarter, quarterback Sean Curran was intercepted by Coconino's Connor Wood, who returned it 18 yards to give the Panthers a 7-0 lead.
KHS's third turnover came in the second quarter, when Valdez fumbled and Coconino's Andrew Staskey recovered and returned it 36 yards to give the Panthers (2-1) a 20-7 lead at halftime.
"We handed them the game," KHS coach Rob York said. "You take half of those turnovers away and it's a different game."
Of the Bulldogs (0-3) seven turnovers, four of them came from interceptions thrown by quarterbacks Curran and Valdez.
"Turnovers will happen during the game, but you can't let seven of them happen," Valdez said. "We should've beat them, but should've, would've and could've doesn't win football games. It's just making sure you do the right stuff."
In his first game back after suffering a hip injury in Week 1, Valdez led KHS's offensive attack with 115 rushing yards on 13 carries and threw for 79 yards while completing 4-of-8 passes.
Valdez also had a pair of rushing touchdowns, a 35-yard run in the second quarter to tie it at 7-7 and a 1-yard run in the third quarter to cut Coconino's lead to 34-14.
A week after rushing for a 113 yards, Matthew Farney picked up where he left off with 93 yards on 12 carries, including a 62-yard touchdown run in the fourth quarter to bring the Bulldogs to 40-21.
"I think our defense played well," York said. "The kids were prepared tonight. They played well we just gave them the game. Those are small things. But those small things turned out to be big things during the course of the game."
KHS hosts Parker 7 p.m. Friday.
Flagstaff Coconino 40, Kingman 21
Coconino 7 13 14 6-40
KIngman 0 7 7 7-21
First quarter
CHS - Connor Wood 18-yard interception return (Andrew Broadston kick)
Second quarter
KHS - Willie Valdez 35 run (Lucas McFarland kick)
CHS - Trevor Kortsen 3 run (Broadston kick)
CHS - Andrew Staskey 36-yard fumble recovery (kick failed)
Third quarter
CHS - Timmy Teran 5 run (Christian Daulton pass from Kortsen)
CHS - Nick Pfeiffer 11 run (kick failed)
KHS - Valdez 1 run (McFarland kick)
Fourth quarter
CHS - Daulton 1 run (kick failed)
KHS - Matthew Farney 62 run (McFarland kick)
Stats
Rushing: KHS Valdez 13-115 2TDs, Farney 12-93 1TD, Jose Cardenas 6-32, Alex Lopez 2-0, Sean Curran 2-(-16).
Passing: Valdez 4-8-79-2. Curran 1-6-6-2.
Receiving: Skyler Burgess 1-51, Cardenas 1-16, Gabe Lumas 3-18.
More like this story